Feb 13 - 16

Sneaky Dees, Longboat Hall, The Garrison, Sonic Boom
19+
Single tix $15-$20, fest passes $50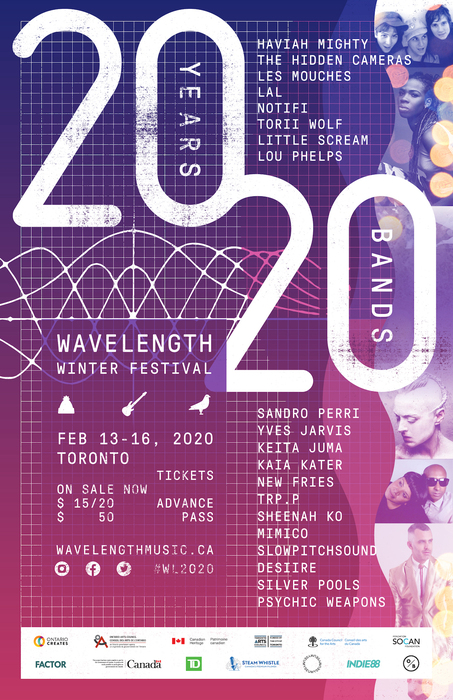 Feb 13 - 16

Sneaky Dees, Longboat Hall, The Garrison, Sonic Boom

19+

Single tix $15-$20, fest passes $50
Wavelength Music announces the return of the Wavelength Winter Festival Thursday, February 13 through Sunday, February 16!

20 for 20
In celebration of their 20th Anniversary in 2020, Wavelength Music presents 20 bands over the course of the four days at Sneaky Dee's, Longboat Hall and The Garrison, co-curated by Ian Steaman and Jonny Dovercourt.
50 for 50
A limited number of full festival passes (only 50 available) are now available for $50.
Announcing this year's lineup:
HAVIAH MIGHTY – THE HIDDEN CAMERAS – LES MOUCHES
LAL (Corners Anniversary Performance) – NOTIFI – TORII WOLF – LITTLE SCREAM
LOU PHELPS – SANDRO PERRI – YVES JARVIS
KEITA JUMA – KAIA KATER – NEW FRIES – TRP.P
SHEENAH KO – MIMICO – SLOWPITCHSOUND
DESIIRE – SILVER POOLS – PSYCHIC WEAPONS (fka Secret Wars)

Thursday night at Sneaky Dee's – LAL, Les Mouches, Sandro Perri, SlowPitchSound
Friday night at Longboat Hall – The Hidden Cameras, Little Scream, Kaia Kater, Sheenah Ko
Saturday afternoon at Sonic Boom – New Fries, MIMICO, Psychic Weapons, Silver Pools
Saturday night at Longboat Hall – Haviah Mighty, Lou Phelps, Yves Jarvis, Desiire
Sunday night at The Garrison – Notifi, Torii Wolf, Keita Juma, TRP.P