Wavelength Music is a curated concert series designed to champion creativity, co-operation and collaboration in the independent music and arts scenes. Established in 2000, we are a non-profit arts organization that puts artists and the community first. A cornerstone of the Toronto music scene, Wavelength Music has championed literally thousands of emerging artists during its two decade-plus run.
---
BRIEF HISTORY
Wavelength was founded as a grassroots, artist-run collective in 2000 by a group of like-minded independent musicians in Toronto. Originally a weekly live music night taking place on Sunday nights, accompanied by a free monthly photocopied print 'zine, the Wavelength music series has a long and storied history as a forum and incubator for emerging musical talent in the Toronto area, with an unparalleled track record for championing new Canadian talent that has since gone to international success. Past esteemed Wavelength performers include: Arcade Fire, Broken Social Scene, Constantines, Feist, F***ed Up, Grimes, Hidden Cameras, Holy F***, Jazz Cartier, METZ, Owen Pallett, Peaches, The Rural Alberta Advantage, Tokyo Police Club, Chad vanGaalen, Haviah Mighty, Backxwash, and more.
Wavelength currently produces approximately 20 events per year, including the Wavelength Winter Festival in February and a monthly, year-round concert series in a variety of venues around Toronto and across Canada. Our programming also includes workshops, talks and other educational, outreach events as well as livestream concerts and discussions.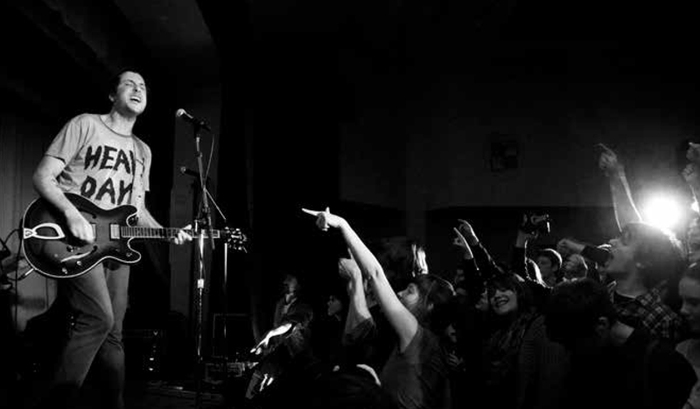 Mission Statement
Wavelength Music is a professional not-for-profit arts organization, dedicated to championing original, emerging musical artists and local music culture, creating opportunities and building community through inclusive, diversely curated live experiences.
Vision
Our vision is to transform communities through music.
---
UPDATE ON ACTIVITIES DURING COVID-19
We hope that everyone has been staying safe and taking care during these difficult times. Our monthly events have returned to in-person programming with reduced capacity! To keep the shows happening in-person, mask mandates and with proof of vaccination are required to enter venues.
LAND ACKNOWLEDGEMENT
We would like to acknowledge that our events take place on sacred land. The Toronto/Tkaronto area is the territory of the Anishinaabe (including the Odawa, Saulteaux, Ojibwe, Potawatomi, Oji-Cree, and Algonquin peoples), the Haudenosaunee (comprised of the Mohawk, Onondaga, Oneida, Cayuga, and Seneca), the Huron-Wyandot, and the Mississaugas of the Credit First Nation.
We acknowledge that these lands are home to many diverse First Nations, Inuit and Métis peoples from across Turtle Island, and we are very grateful to be able to work and to present our music and art in these territories and on these lands. This acknowledgement asks us what we can do to work towards our own reconciliation with Indigenous People, and how we can be better stewards of the land. We are mindful of past broken covenants, and the negative effects that colonization and the exclusion of Indigenous people from Confederation have had on Indigenous people. We recognize the need for us all to work for justice and in cooperation and friendship with all people.
AUDIENCE POLICY
Wavelength respects the rights of each member of our diverse audience and is committed to providing an environment in which everyone can feel safe. Any behaviour which could reasonably be perceived as physically, emotionally, or mentally harmful to individuals at Wavelength events will not be tolerated. This includes: racism, sexism, homophobia, transphobia, body shaming, ableism, ageism, and all forms of violence.
Please be respectful of others and help Wavelength create a fun and safer space for everyone. If you need help, or see others in need of help, please talk to a Wavelength staff member or volunteer.
For information on Wavelength's Code of Conduct and Anti-Harassment and Violence policies, please go here.
Dandelion Initiative Safer Spaces Program
Wavelength has completed the Dandelion Initiative's Safer Bars & Spaces Training Program. We are committed to providing a safe and fun experience for everyone at our events. For more information please visit the Dandelion Initiative's website here.
Keychange Initiative – Gender Parity in Festival Programming
Wavelength is a participating partner in the Keychange Initiative, a global initiative committed to gender parity in festival programming. For more info please visit the Keychange Initiative here.
Canadian Creative Industries Code of Conduct
Wavelength is a signee of the Canadian Creative Industries Code of Conduct: http://readthecode.ca/contact/
Wavelength Music Arts Projects is incorporated as a not-for-profit arts organization, business number 85004 8158 RT0001.