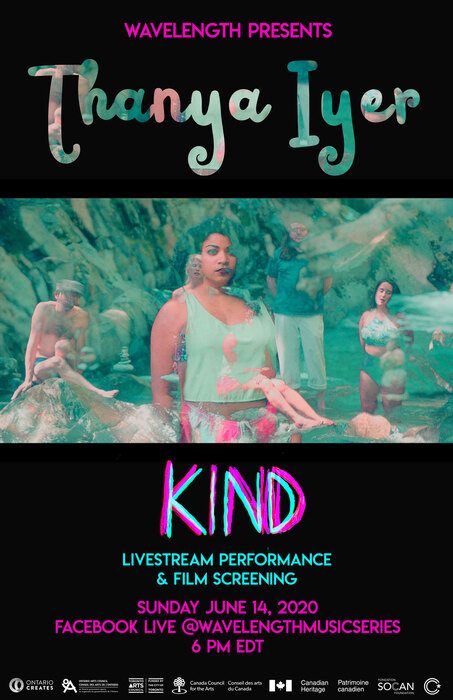 Wavelength presents
Thanya Iyer
"KIND" Livestream Performance & Film Screening
All proceeds and donations go to Women's Health in Women's Hands, a Community Health Centre for racialized women living in Toronto and surrounding municipalities.
Sunday June 14
6PM EDT
FB Live: facebook.com/wavelengthmusicseries
On June 14, Toronto's Wavelength Music presents a special livestream concert: a live performance by scintillating Montreal art-pop artist Thanya Iyer, accompanying the new original film KIND – a "visual album" created to accompany her forthcoming album of the same name.
The 20 minute film KIND is a journey in self-love, exploring Iyer's Montreal with help from friends both earthly and ethereal. Underscoring its explorative nature, the constant movement of KIND melds the sounds of experimental pop and improv into a magical amalgam that teems with flashes of jazz and nuanced electronics.
"KIND is a film exhibiting the conscious exploration of self-love. How to be KIND to ourselves and all that is around us." – director Bucky Illingworth.
PWYC – Please donate in support of WHIWH. The artist will also be donating their artist fee from this online event to the Toronto-based charitable organization. DONATE HERE
About the artist
Thanya Iyer is an enigmatic songwriter who crafts sparkling experimental pop music. Her live trio wields acoustic and electronic instruments to flesh out these serene, spiritual compositions. Thanya and the band's arrangements empower listeners to embrace mindfulness, aesthetic beauty and the interconnectedness of all things.
About the charity
Women's Health In Women's Hands is a Community Health Centre for racialized women living in Toronto and surrounding municipalities. Our primary health care team of highly skilled health care professionals specialize in the health and wellness needs of racialized women and prioritizes those from African, Caribbean, Latin American and South Asian communities. Our services are fully accessible and designed to address the barriers that prevent women from being in excellent health.
Supported by Collective Arts Brewing, Ontario Creates, Ontario Arts Council, Toronto Arts Council, the Canada Council for the Arts, Department of Canadian Heritage & the SOCAN Foundation.