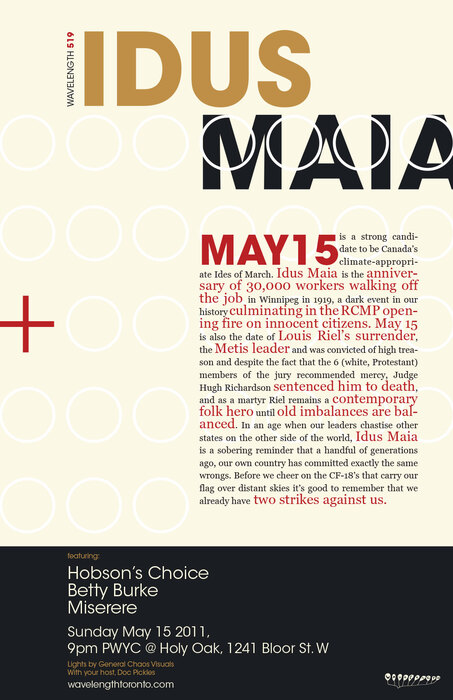 May 15

Holy Oak Cafe

9:00 PM
featuring:
Betty Burke (file next to: The Jackhammers of Truth!)
Hobson's Choice (file next to: Cathedral stained glass-lit sunshine)
Miserere (file next to: Sea Snakes dancing with Hose Feet)
Lights by General Chaos Visuals
With your host, Doc Pickles
Sunday May 15 2011, 9pm PWYC
Holy Oak 1241 Bloor Street West
May 15 is a strong candidate to be Canada's climate-appropriate Ides of March. Idus Maia is the anniversary of 30,000 workers walking off the job in Winnipeg in 1919, a dark event in our history culminating in the RCMP opening fire on innocent citizens. May 15 is also the date of Louis Riel's surrender, the Metis leader and was convicted of high treason and despite the fact that the 6 (white, Protestant) members of the jury recommended mercy, Judge Hugh Richardson sentenced him to death, and as a martyr Riel remains a contemporary folk hero until old imbalances are balanced. In an age when our leaders chastise other states on the other side of the world, Idus Maia is a sobering reminder that a handful of generations ago, our own country has committed exactly the same wrongs. Before we cheer on the CF-18's that carry our flag over distant skies it's good to remember that we already have two strikes against us.