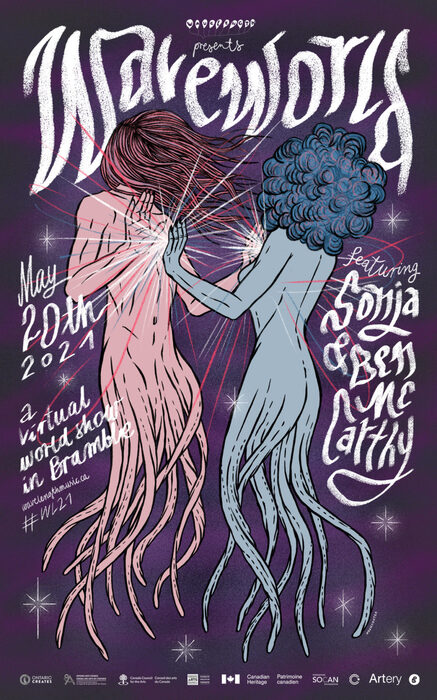 Wavelength Monthly Music Series: May 2021
WAVEWORLD:
A Virtual World "Happening"

featuring:
Sonja (Biblioteka Records)
Ben McCarthy (Pale Eyes)
DJ The Champ (Brendan Canning of Broken Social Scene)
Thursday, May 20, 2021
Virtual "doors" at 7PM EDT
ALL AGES // FREE
Welcome to Waveworld!
May's edition of the Wavelength online monthly music series is getting a little trippy. Taking place in virtual world Bramble, Waveworld is a virtual space for locked-down audiences to safely gather with friends to attend a show. Choose out-of-this-world avatars, go on a sci-fi adventure with your pals, and check out great sets from electronic experimental DJ Sonja (founder of Biblioteka Records) and sound artist Ben McCarthy (Pale Eyes). When you find the vaporwave lounge room, chill out to classic cuts selected by DJ The Champ, a.k.a. Brendan Canning of Broken Social Scene fame.
We highly recommend joining this event with a group of friends to co-adventure Waveworld. Users also have the ability to turn their cameras and microphones on or off for privacy. Bramble works best on Chrome browsers and sounds best with headphones. Once you RSVP, you will receive a special link to enter the world. Do not share this link, as it is uniquely yours.
Capacity is 100 and virtual "doors" are at 7PM EDT.
Stay safe, stay inside, and come join the party in Waveworld!
Poster design by Natka Klimowicz
Safer Space Policy:
Wavelength respects the rights of each member of our diverse audience, and is committed to providing an environment in which everyone can feel safe. Any behaviour which could reasonably be perceived as physically, emotionally, or mentally harmful to individuals at Wavelength events will not be tolerated. This includes: racism, sexism, homophobia, transphobia, body shaming, ableism, ageism, and all forms of violence. Please be respectful of others and help Wavelength create a fun and safer space for everyone.
For information on Wavelength's Code of Conduct and Anti-Harassment and Violence policies,please visit https://www.wavelengthmusic.ca/about/wavelength-policies/