May 2

Instagram Live @wavelengthmusic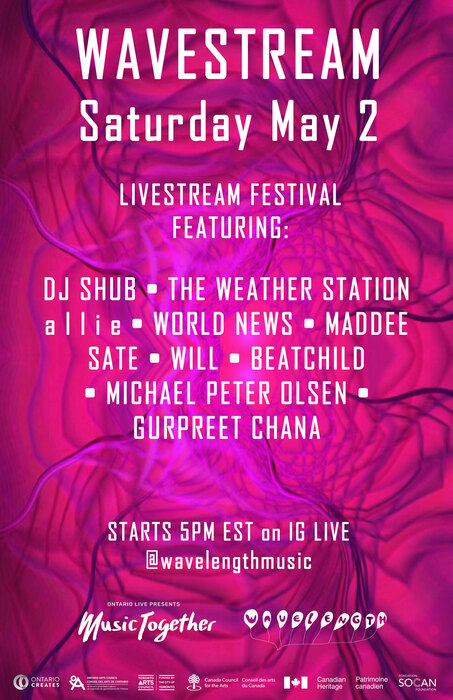 May 2

Instagram Live @wavelengthmusic

5 PM EST
We're excited to partner with Music Together to present a full day of livestream performances on Saturday, May 2!
Ten artists back to back beginning at 5pm EST, including:
Gurpreet Chana – 5 PM (all times EST)
Michael Peter Olsen – 5:30 PM
The Weather Station – 6 PM
WILL – 7 PM
a l l i e – 7:30 PM
Beatchild – 8 PM
Maddee – 9 PM
SATE – 9:30 PM
World News – 10 PM
DJ Shub – 10:30 PM

We hope everyone is staying safe during this difficult time! To help artists and to give listeners access to quality live shows in the era of social distancing, Music Together is presenting a series of livestream concerts. We're honored to be asked to participate!
MusicTogether supports working Ontario musicians during the COVID-19 crisis with direct funding, new opportunities for fan discovery, and eCommerce tools. $300,000 has been committed thanks to the generosity of the music community funders listed below and matching funds from OntarioLive.
MusicTogether is run by volunteers. 100% of our funds go straight to working musicians affected by the COVID-19 crisis.
https://musictogether.ca/