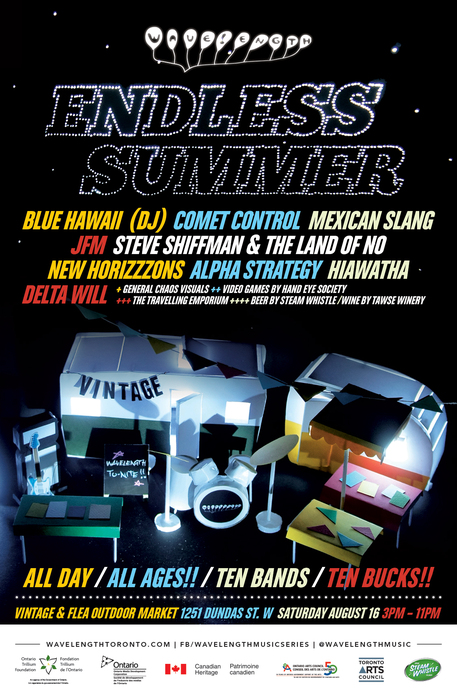 Aug 16

Vintage & FLEA

3:00 PM

All Ages
"WAVELENGTH'S ENDLESS SUMMER"
A Mini-Festival Featuring:
BLUE HAWAII (DJ) (Montreal / Arbutus Records)
COMET CONTROL (Toronto / ex-Quest for Fire)
MEXICAN SLANG (Toronto / Buzz Records)
STEVE SHIFFMAN & THE LAND OF NO (NYC)
JFM (Halifax / Pleasence Records)
NEW HORIZZZONS (Toronto / Record Release)
ALPHA STRATEGY (Toronto / Record Release)
HIAWATHA (Toronto)
DELTA WILL (Toronto)
+ General Chaos Visuals
++ DJs Kate Killet + D'Jean
+++ Video games by The Hand Eye Society
++++ Food by The Traveling Emporium
+++++ Beer by Steam Whistle
++++++ Wine by Tawse Winery
+++++++ Decor by Melissa Fisher
Saturday, August 16, 2014
3PM – 11PM
Vintage & Flea Outdoor Market
1251 Dundas St. W.
ALL DAY / ALL AGES !!

10 BANDS / 10 BUCKS !!

Adv tickets at Rotate This, Soundscapes & Ticketfly
Licensed event!
SET TIMES!!!
Delta Will – 3:15
Hiawatha – 4:00
Alpha Strategy – 5:00
New Horizzzons – 5:45
JFM – 6:30
Steve Shiffman & the Land of No – 7:30
Mexican Slang – 8:15
Comet Control – 9:00
Blue Hawaii – 10:00
About Wavelength's Endless Summer
Summer in Toronto may feel fleeting, but the fact is we get at least five months of warm weather a year. So let's celebrate this climactic wealth and enjoy it while we can!Wavelength's Endless Summer brings underground music to the street level, out from behind club walls and overpriced festival barricades and to the sidewalk of one of west Toronto's busiest main drags.
This mini-festival takes place at an exciting new venue, the Vintage & Flea Outdoor Market on Dundas West at Dovercourt, just steps from hip bars and venues such as The Garrison, Get Well, The Communist's Daughter, Fountain, The Red Light, Milk Glass and Bambi's. The open-air, street-front location will feature not just live music,
but also live video games by the Hand Eye Society, projections and art installations, plus food, drink and vintage clothing and goods for sale.
The musical line-up features long-running non-profit concert promoters Wavelength Music's trademark creatively diverse line-up, featuring some of Toronto's freshest and most groundbreaking emerging artists, alongside friends from New York, Montreal and Halifax. Highlights include an electro-pop DJ set by Blue Hawaii (Montreal/Arbutus Records), last seen at the Foundry music series, psych-rockers Comet Control (Toronto/members of Quest for Fire & Biblical), tuneful garage punks Mexican Slang (Toronto/Buzz Records), classic indie rock quintet Steve Shiffman & the Land of No (NYC), electro/trance act JFM (Halifax/Pleasence Records) and record release parties for experimental rockers Alpha Strategy (Toronto) and avant-garage absurdists New Horizzzons (Toronto/members of Canned Hamm, Tijuana Bibles & The Leather Uppers).
Poster design by Derek Ma.
+ DJ Kate Killet & DJ D'Jean