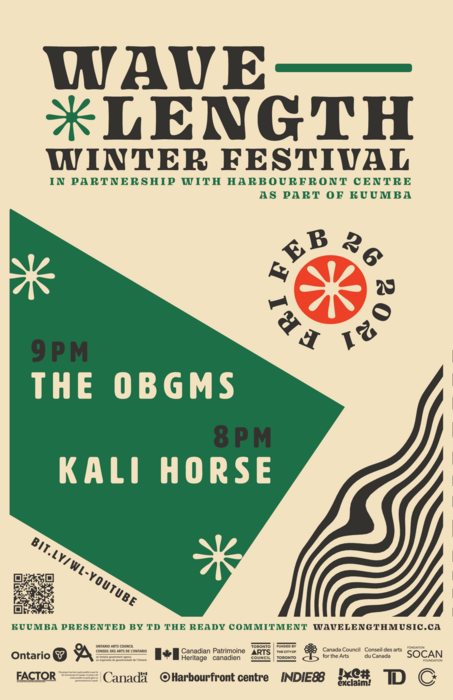 Feb 26

YouTube Live

8 PM

Free
Wavelength Presents…
In partnership with Harbourfront Centre, as part of Kuumba
The Wavelength Winter Festival 2021 – Show #3
Friday, February 26th
9 PM – The OBGMs (Toronto – Buzzy Black-fronted punk rockers)
8 PM – Kali Horse (Toronto – Psychedelic rock duo, fka Kaleidoscope Horse)
Saturday, February 6th, 2021
8-10PM EST
ALL AGES // FREE
Tune in: http://bit.ly/WL-YOUTUBE
Welcome to the second week of our month-long Winter Festival! Crank up your speakers because s**t's about to get real with Toronto's punk honeys The OBGMs and the psychedelic a-f duo Kali Horse (fka Kaleidoscope Horse). Save the month! 4 shows in February!
Recorded at Longboat Hall + Safe Sounds Vault in Toronto, we're sure this show is bound to wake you up and get you energized for the rest of the winter!
Order drinks from Collective Arts Brewing – free delivery w/ promo code "WAVELENGTHFRIENDS" !
#WL2021
About the artists
The OBGMs

The OBGMs — vocalist/guitarist Densil McFarlane, drummer Colanthony Humphrey and bassist Joseph Brosnan — aren't your typical rock band. "This is a Black-fronted punk band, and that's really important," McFarlane says. "Rock n' roll is mostly white suburban kids — that's what gets promoted. But we are Black and we out here. I was inspired to make rock music when I saw a Black guy onstage, and if someone sees that in us, I hope it will inspire a new generation to go after this."
The band's 2020 album The Ends was recorded at Dream House Studios in their hometown of Toronto with Grammy and Juno award-winning producer Dave Schiffman (Trash Talk, PUP, Rage Against The Machine). Tracks like hard-hitting single "Cash" slices through the stereo field with a serrated guitar edge and streetwise punk sneer, while "Not Again" delivers a middle finger to old ways and self-defeating mindsets — all set to a slamming beat and roiling spitfire cadence.
Kali Horse
Kali Horse is the experimental combination between Sam Maloney and Desiree Das Gupta from Toronto ON. Emotional voice reverb-soaked guitar and live drumming with nature-based samples support theatrical story telling through mood and time changes. Each song is its' own sonic world inspired by a feeling. Tangible groove ear-catching melody and the permission to navigate challenging contrast will find you here in Kali Land.
About Harbourfront Centre's Kuumba Presented by TD The Ready Commitment
Through dialogue and artistic expression, Kuumba 2021 addresses the international struggle for Black liberation today. We aim to strengthen Toronto's Black community by connecting with voices beyond our City Lines. This year's Kuumba is a series of events that runs throughout the month of February featuring the work of choreographers, authors, musicians, visual artists and thought leaders from across Canada. Stay tuned to Harbourfront Centre's channels on harbourfront.live for more info as it becomes available and share your ideas online as we celebrate the Black community standing in their Blackness.
Poster design by Juliana Carlevaris
Wavelength Winter Festival 2021 is supported by The Government of Ontario, Ontario Arts Council, Toronto Arts Council, the Department of Canadian Heritage, the Canada Council for the Arts, FACTOR, Harbourfront Centre, Kuumba Presented by TD The Ready Commitment, The SOCAN Foundation, Exclaim! Presents, Indie88 FM, and Collective Arts Brewing.
Audience Policy
Wavelength respects the rights of each member of our diverse audience, and is committed to providing an environment in which everyone can feel safe. Any behaviour which could reasonably be perceived as physically, emotionally, or mentally harmful to individuals at Wavelength events will not be tolerated. This includes: racism, sexism, homophobia, transphobia, body shaming, ableism, ageism, and all forms of violence.
Please be respectful of others and help Wavelength create a fun and safer space for everyone.
For more information please visit Wavelength's Code of Conduct and Anti-Harassment and Violence policies.
---
---
UPCOMING SHOWS

COMING UP
The Danforth Music Hall

Saturday, March 25

7:00PM

$27 GA & Balcony

$37 Mezzanine