Aug 17

Stackt
28 Bathurst St
5:00 pm
19+
$25/day or $40 weekend pass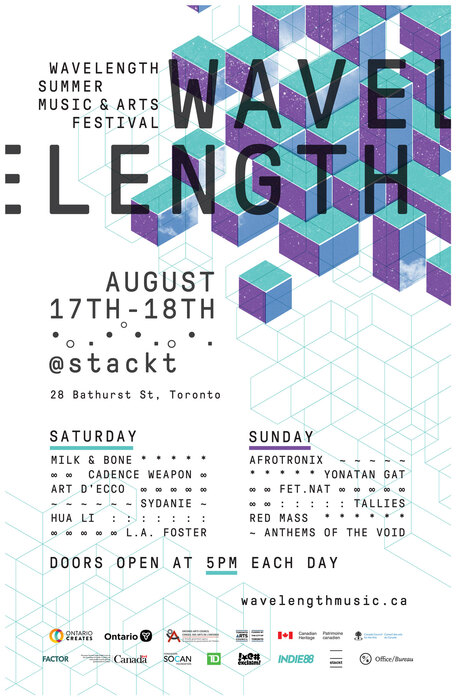 Aug 17

Stackt

28 Bathurst St

5:00 pm

19+

$25/day or $40 weekend pass
WAVELENGTH SUMMER MUSIC & ARTS FESTIVAL 2019 @ stackt!
Two days of music, arts & community – August 17 & 18 in Downtown Toronto
Wavelength Music announces its Wavelength Summer Music & Arts Festival August 17 & 18, 2019 @ stackt!
August 17 & 18, 2019
Stackt – 28 Bathurst St.
Doors 5:00 pm daily – $25 advance or $40 all-access weekend pass
Following a long-standing tradition of Camp Wavelength and the ALL CAPS! Island Festival, Toronto's non-profit independent music hub Wavelength Music celebrates summer in the city with the newest incarnation of its August festival, the warm-weather flipside of its beloved winter fest. With a musical mainstage weather-protected inside the Belgian Moon Brewery and additional programming on the grounds of stackt, Wavelength offers a new, intimate, and accessible take on the summer music-festival experience.
The musical programming at the Wavelength Summer Music & Arts Festival continues Wavelength's 19 year track record of championing diversity and inclusivity in the musical underground. Artists include Milk & Bone (Montreal dream-pop duo & 2019 Juno electronic award winners), Cadence Weapon (Canadian hip-hop icon), Art D'Ecco (Vancouver glam-rock dance-pop), Sydanie (Polaris Prize long-listed Toronto hip-hop), Hua Li (Montreal R&B & revolutionary rap) and L.A Foster (Montreal electronic pop) as part of the Saturday line up with Yonatan Gat (New York surf-jazz guitar wizard touring w/ guest Indigenous drummers Red Medicine and Strong Bear), AfrotroniX (electronic futurist West African mandinkan music meets Tuareg blues from the Sahara), Fet.Nat (Quebec dance-punk absurdists and Polaris long-listers), Tallies (Toronto indie-pop sensations), Red Mass (Montreal punk-rock trio), and Anthems of the Void (Toronto/New York improv/avant-rock trio) 0n Sunday, August 18!
Joining Wavelength's latest release of musical names is Toronto-based music industry executive and writer Ian Steaman, who has been announced as this year's guest curator. Over the course of his career, Ian has worked with many genre and culture-defining artists from De La Soul, Queen Latifah, House of Pain and Naughty by Nature to T-Pain, Too Short, Kelis, Big Boi of Outkast, and Lil B's first group, The Pack. Most recently he has overseen artist programming and bookings for CBC Music's First Play Live sessions series and runs the pioneering music blog, DIFFERENT KITCHEN. He is also currently in development on an hour-long television drama set in the world of the Toronto hip-hop industry."
Early-bird tickets on sale now, prices start at $25 for single-day tickets, and $40 for two-day weekend passes. Tickets will be available through wavelengthmusic.ca, or in person at Rotate This (186 Ossington Ave.) and Soundscapes (572 College St.) in Toronto.
Buy tickets + full lineup info
Devoted Wavelength concert-goers can also buy a Wavelength Passport for $99.99 – which includes admission to both summer and winter festivals, plus all shows included in the Wavelength Monthly Music Series for one year!
About Stackt
Transforming unused land into an experience of curated discovery at the intersection of Front & Bathurst, in the heart of King West, stackt is 100,000 sq. ft. market designed entirely out of shipping containers. At stackt you'll engage in new experiences, find new products and form new perceptions at this ever changing and evolving cultural lifestyle marketplace mixed with a community meeting hub.