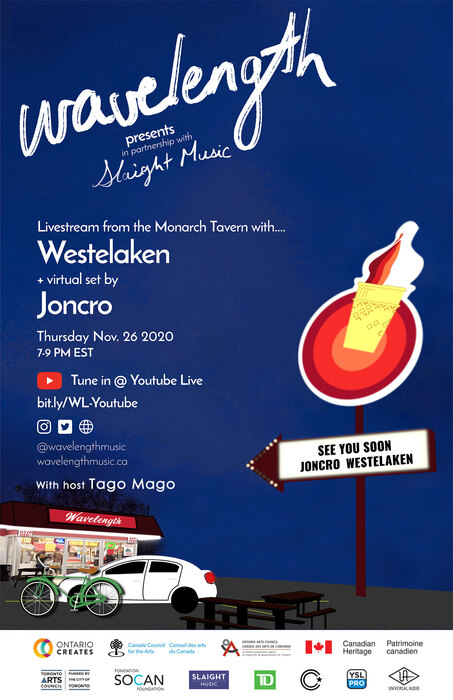 Nov 26

YouTube Live

7 PM

Free
Wavelength Presents
in partnership with Slaight Music
Livestream from the Monarch Tavern with
Westelaken (Toronto alt-country punksters)
+ virtual set by:
Joncro (Mississauga lo-fi noise-rock trio)
With host Tago Mago
+ General Chaos visuals
Thursday November 26, 2020
7-9PM EST
Tune in: http://bit.ly/WL-Youtube
Order drinks from Collective Arts Brewing – free delivery w/ promo code "WAVELENGTHFRIENDS" !
#WL2020
With no end to the COVID pandemic in sight, Toronto's Wavelength Music is continuing its monthly series of online concerts – and continuing its 20-year mandate to support diverse emerging artists, as well as the independent venues they call home. The November 2020 installment of the Wavelength Music Series pairs up two next-generation Ontario indie music artists: Alt-country punksters Westelaken, hot on the heels of their 2020 album The Golden Days Are Hard, will perform a livestream from the stage of the Monarch Tavern in Toronto, while lo-fi noise-rock trio Joncro, fronted by Afro-Jamaican singer/guitarist Daniel G. Wilson, will play a virtual set from an undisclosed location.
About the artists
Westelaken
Westelaken is a Toronto band that elegantly balances the emotional directness and narrative lyricism of traditional country music with noise and wild dynamics. They formed in 2017 and have released two albums, the most recent being 2020's The Golden Days are Hard.
Joncro
Joncro is an experimental noise rock power trio based out of Mississauga, Ontario. Fronted by Afro-Jamaican guitarist/singer Daniel G. Wilson, with Matthew Mikuljan on drums and Kieran Christie on bass/keyboards, they have been spreading the gospel of noise since 2015.
Tago Mago
Tago Mago (they/them) is a drag performer and musician based in Toronto. Pre-Covid, they hosted Bands & Drag! at The Beaver (R.I.P.), played in Toronto bands Slurry, The Brain, and Merc and the Montclairs, and could be seen on stage as the musical director and accompanist for Pearle Harbour. They recently hosted the Alternaqueer stage at Toronto Virtual Pride, and have otherwise been obsessively baking bread.
Poster design by Angelo Gio Mateo, https://agmstudio.dev/