Dec 1

Creatures Creating Gallery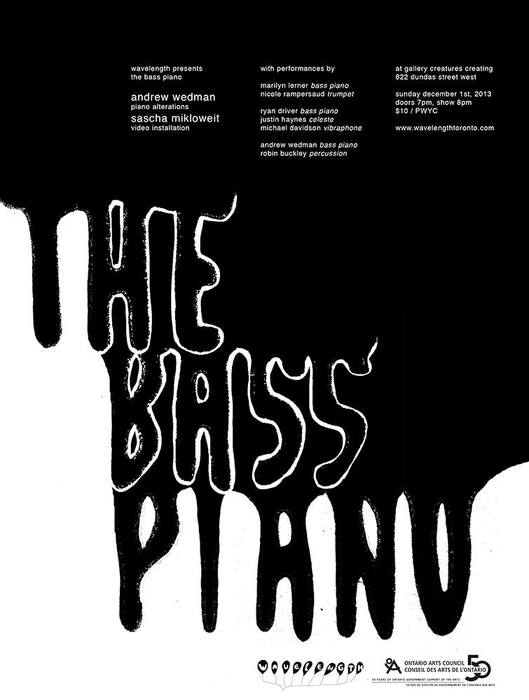 Dec 1

Creatures Creating Gallery

7:00 PM

19+
Wavelength Presents:
"THE BASS PIANO"
Created by:
Andrew Wedman (B.C.), piano alterations
Sascha Mikloweit (Berlin), video installation with performances by:
Marilyn Lerner, bass piano
Nicole Rampersaud, trumpet
Ryan Driver, bass piano
Justin Haynes, celeste
Michael Davidson, vibraphone
Andrew Wedman, bass piano
Robin Buckley, percussion+ General Chaos Visuals
Sunday December 1st, 2013
Creatures Creating Gallery, 822 Dundas Street West
Doors 7pm, show 8pm
$10 / PWYCLimited seating / please arrive early!
About The Bass Piano:
The Bass Piano is a piano that has been tuned down a full octave to A220. The result is reduced tension in the strings and a unique tonal quality similar to bells or steel drums. With slightly unstable tuning and long sustains, strange anomalies occur within its harmonics and loose strings buzz as they connect with each other.
The Bass Piano was created by B.C.-based piano technician/musician Andrew Wedman in his experimentations with various altered tunings. As these extreme tunings can be difficult for pianos to adjust to, he turned to old pianos, more and more of which are headed to the dump, repurposing these instruments so that they can be playable again.
The first Bass Piano was debuted in Berlin in January 2013 — as part of the Speculative Brutalism Salon alongside work by visual artist Sascha Mikloweit — with performances by Andrew Wedman and pianist John Kameel Farah.
For the second Bass Piano show, coming up Dec. 1st, 2013 in Toronto, Andrew will continue to explore the sonic possibilities of the instrument, joined by percussionist Robin Buckley. He has also invited two local pianists with innovative and unique approaches in piano improvisation to perform. Ryan Driver has both the artful grace of jazz harmonies and a surprising wit in the avant-garde. Marilyn Lerner's work spans the worlds of jazz, creative improvisation, Klezmer and 20th century classical music. Sascha Mikloweit will again present a visual installation, in an ongoing conversation between the two artists.