Wavelength presents: SURINAM + WOLFCOW + DAS RAD + TROG
---
Saturday, November 9, 2013

The White House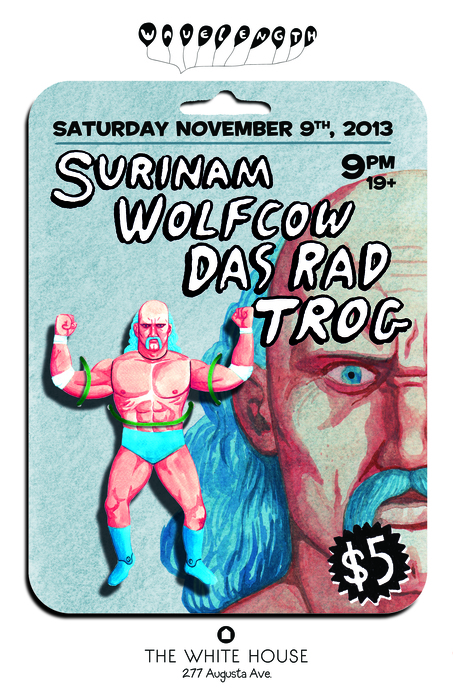 Wavelength presents:
SURINAM
Guitars swirl…drone in/out your ears. Kick/snap drums repeat. Sparing backbone synth. Toronto punk favourites tear it up in a new form.
WOLFCOW
Wobbly, trembling, bizarro pop. Satanic, sexy carnival music. A modern musical spectacle to behold!
DAS RAD
Dat wall of electric. Washed and wet, soaked and spacey – they know how to blend. Warning: bursts of amazing punk/rock/swerve-pop up ahead.
TROG (first show!!)
Rule the land of groove. Heavy bass-driven stoner-metal will lock you in and pull you into a trance. chug chug chug.
+ DJ Alex Low
++ General Chaos Visuals
Saturday, November 9th
@ The White House (277 Augusta Ave.)
Doors 9pm 19+ | $5 at the door
no images were found
[/types]']
---
---
UPCOMING SHOWS