Nov 20, 2021

918 Bathurst Centre for Culture, Arts, Media & Education
918 Bathurst
7PM
All Ages
$15 CAD in advance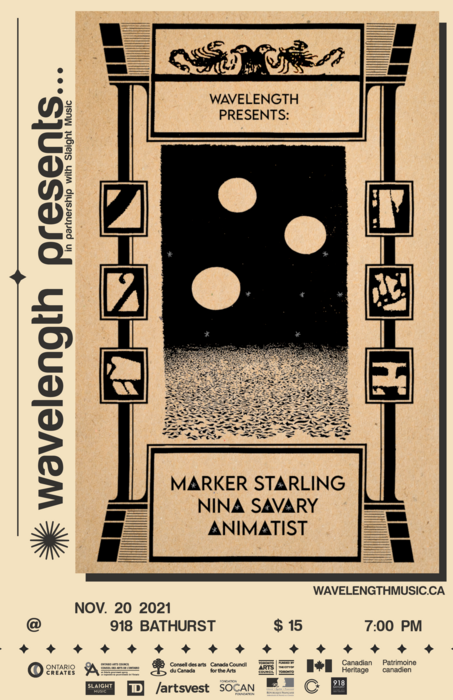 Nov 20, 2021

918 Bathurst Centre for Culture, Arts, Media & Education

918 Bathurst

7PM

All Ages

$15 CAD in advance
SOLD OUT!
"Novembre en Wavelength"
Wavelength Monthly Music Series
November 2021
In partnership with Slaight Music
With the support of the French Consulate in Toronto
Featuring Tin Angel Records artists:
Marker Starling (Toronto / Stereolab collaborator)
Nina Savary (virtual set from France)
Animatist (Toronto)
Projections by General Chaos Visuals
Decor by Roxanne Ignatius
Art by Stephanie Avery
WHEN: Saturday November 20, 2021
WHERE: 918 Bathurst Centre for Culture, Arts, Media & Education, 918 Bathurst St., Toronto
TIME: Doors 7pm, over by 11pm
TICKETS ARE SOLD OUT FOR THIS EVENT
All Ages / Licensed
SEATED SHOW!
Refreshments provided by Collective Arts Brewing.
Looking forward to seeing you!
COVID Protocols:
Your safety is our primary concern. We will have a maximum of 100 tickets on sale. Seating will be accommodated at separate tables. Audience members aged two and older are required to always wear face coverings while on 918 Bathurst property, except when actively eating and drinking in their seats. Proof of full vaccination minimum 2 weeks prior to event is required to enter.
Accessibility:
918 Bathurst is not currently wheelchair accessible due to stairs (two half-flights to enter the performance space, and one flight to access the washrooms). For all other accessibility requests, please contact us at info@wavelengthmusic.ca
—-
Wavelength's series of intimate, seated concerts at the gorgeous, reverberant 918 Bathurst Centre continues this fall, with a transatlantic link-up between two iconoclastic art-pop singer-songwriters: Toronto's Marker Starling and France's Nina Savary. Not only do both artists record for UK indie label Tin Angel Records, but Nina Savary's 2020 debut single for the imprint, "Second Guessing," was a Marker Starling cover.
A veteran of the Toronto music scene who performed for years under the name Mantler – and who first played the Wavelength series 20 years ago, during our early days at Ted's Wrecking Yard (RIP) – Chris Cummings aka Marker Starling has had an increasingly international profile in recent years. Since signing with Tin Angel in 2010, Cummings has released six albums of increasingly joyous yet still introspective soft-rock. His 2020 LP High January saw him collaborate with two veterans of the British music scene: producer Sean O'Hagan of The High Llamas, and vocalist Laetitia Sadier of Stereolab, who guested on two songs. Despite the album's title, High January has a carefree, summery pure-pop vibe throughout.
Bringing the "hybrid" edge to modern-day performance is French multidisciplinary artist Nina Savary, who will present a virtual set that will be projected digitally at the venue as well as on Wavelength's YouTube channel. Presented with the support of the French Consulate in Toronto and recorded at a country house in the South of France, this performance will pair magically with the shimmering atmosphere of Savary's Franco-pop recordings for Tin Angel.
Local experimental rock outfit Animatist are bringing the ruckus to shake up, yet fittingly turn up the volume in the night's sonic landscape. Having released their sophomore album, INVERTED during the pandemic on Glue Gun Records, it will be a delight to experience Animatist's dark polyrhythms in the physical realm.
The evening will also feature the trademark psychedelic projections of Wavelength's in-house lighting artist, General Chaos Visuals.
About the artists:
Marker Starling: After recording and performing for many years as Mantler, Toronto's Chris A. Cummings renamed himself Marker Starling in 2012. A solo performer for much of his career, Cummings became known for his signature melancholy style, using a Wurltizer electric piano, with drum machine accompaniment.
After a longtime association with Germany's Tomlab label, Cummings began working with Tin Angel Records in 2010, when they co-released his fourth album Monody and fifth album Rosy Maze to great acclaim in 2015. Since then, Tin Angel have released four more Marker Starling records: I'm Willing (2016), Anchors and Ampersands (2017), Trust an Amateur (2018), and High January (2020), recorded in the UK and produced by Sean O'Hagan (The High Llamas, Stereolab). Tin Angel will release the upcoming Diamond Violence in 2022.
Cummings has collaborated with the German band Von Spar, contributing vocals and lyrics to their albums Streetlife (2014) and Under Pressure (2019). "Deep Background," a song he wrote for Stereolab's Laetitia Sadier appeared on Find Me Finding You (2017) and the French-British vocalist guested on his 2020 single, "Waiting for Grace." His music is also released on 7e.p. Records in Japan, where he also performed the singing voice of the character Desmond in the popular anime Carole and Tuesday (2019).
Nina Savary: French multidisciplinary artist Nina Savary was born into the world of entertainment, taking to performing like a duck out of water, brought up backstage, behind the scenes of theatres across Europe. Making her debut to the stage at the mere age of four years old at La Scala in Milan, touring with her parents' (Jérôme Savary) explosive and free theatre company Grand Magic Circus. Now an adult, Nina is a renowned performer; a singer, dancer and actress, she has been involved in many artistic projects such as musicals, opera as well as collaborating with musicians such as Stereolab's Laetitia Sadier and Julien Gasc, Eddy Crampes, Marker Starling, and her partner Astrobal, aka Emmanuel Mario, a producer, arranger and composer with whom she collaborates for the band Institut and the project Vivre!.
After the single "Second Guessing" composed by the wonderful Marker Starling, Nina's first solo album Next Level Soap Opera will be released September 24th on Tin Angel Records. The best advice one could give a happy wanderer to pinpoint Nina Savary's universe on a map would be to proceed by elimination. Look for where she is not rather than where she actually is; for her place of residency is in the exact opposite direction of the current state of emergency. And omitting to indulge in a tired eulogy for idleness, sloth or rest, we can be sure that the French singer, dancer and actress diligently steers clear from the pangs of chaos.
Animatist: Animatist is a four piece experimental rock band from Toronto, Ontario led by guitarist Brent O'Toole. The rhythm section, comprised of Steve Cook on bass and Ian Hinds on drums, form the driving foundation of the band's powerful sound. The picture is completed by the angular melodies and ambient textures of saxophonist and synth player, Danielle Fernandes. Together they perform rhythmically deft compositions that evoke equal parts math, post, and progressive rock. Animatist has toured Ontario and Quebec, sharing the stage with artists including Fet.Nat, ART the Band, and Peripheral Vision. They've also performed for the Guelph Jazz Festival, Rock the Coliseum, Kazoo! Guelph and Festival Lingua Franca.
Throughout 2019 Animatist debuted new material woven into gapless sets that were equally energetic and mesmerizing. It was through perfecting their mind altering live performances that they developed the concepts and songs that would eventually become their sophomore release, 'INVERTED'. Releasing on July 3rd, 2020 on Glue Gun Records, this album continues to explore the polyrhythmic textures, dark atmospheres and progressive compositions they've come to be known for.
—–
Poster Design: Ryan Cassidy