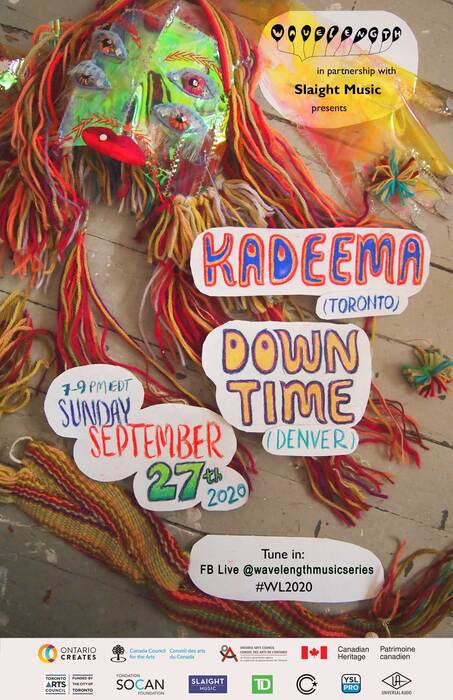 Sept. 27

Facebook Live

Free
Wavelength Presents
in partnership with Slaight Music
A cross-border double bill with…
Down Time (Denver)
+ Kadeema (Toronto)
Sunday September 27, 2020
7-9PM EDT
Tune in: Facebook Live @wavelengthmusicseries/live
Order drinks from Collective Arts Brewing – free delivery w/ promo code "WAVELENGTHFRIENDS" !
#WL2020
Wavelength's latest edition of its online monthly concert series features a cross-border double bill, featuring Denver, Colorado indie-pop trio Down Time and Toronto electro-rock duo Kadeema! Though the US/Canadian border remains closed due to Covid-19, the Internet allows us to stay connected with our American friends, who are going through a hard time right now.
Down Time are one of 2020's most delightful discoveries – the Denver trio's album Hurts Being Alive is a humorous, bittersweet collection of self-deprecating indie-pop anthems that will prick up the ears of fans of Yo La Tengo, Courtney Barnett, Rapport. Down Time formed in 2015, with no intentions, with no ego — the way groups of friends gravitate towards like-minded people — and released their debut EP Good Luck! in 2017. Alyssa Maunders' voice will charm listeners, as will the band's arrangements, who Paste Magazine said "sits at the crossroads of retro folk-pop, indie-rock and psych-funk." Produced by Patrick Riley and Alaina Moore from the band Tennis, the album has received plenty of play on NPR's All Songs Considered. The hilarious, sitcom-inspired video for "Not a Complicated Person" is a must-watch: https://youtu.be/oW6cQNDqD6Q
Kadeema are a duo who write rock songs with sarcasm and wit, capturing day-to-day malaise and finding empowerment in expressing their frustrations on their debut EP, Napoleon Tornapart, released in June 2020 on Hidden Pony Records. Vocalist Jimmy Chauveau and guitarist Tal Vaisman developed their songwriting partnership during their time as members of Ascot Royals, whose dissolution led to the two forging a path onwards as Kadeema (translating to "forward" in Hebrew). Working with drummer and producer Isaac Carpenter (AWOLNATION, Duff McKagan, Adam Lambert), Kadeema embraced their newfound freedom, translating stories of personal and professional imprisonment into cathartic assertions of their ability to rebuild and live honestly. Featuring the effortlessly catchy lead single, "Gotta Get It," Napoleon Tornapart cements the duo's knack for juxtaposing anthemic choruses with stark lyrical observations, combining grunge with songs that venture into dancier, dreamy territory.