Wavelength Presents: DESIIRE on City Hall Live Online
---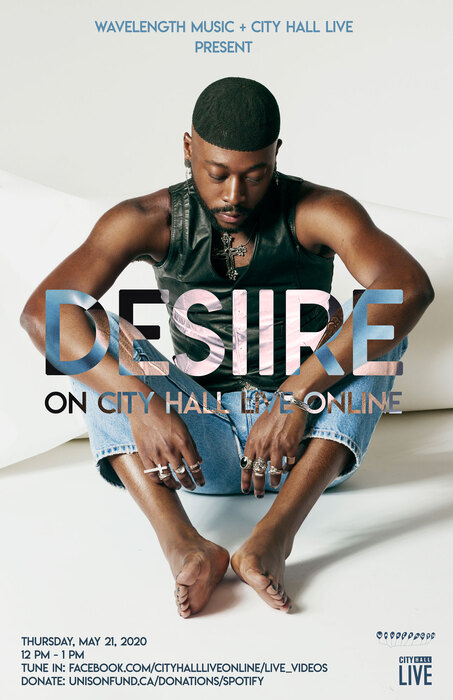 Wavelength + City Hall Live Online
featuring: DESIIRE
Thursday, May 21, 2020
12 PM – 1 PM
Tune in: https://www.facebook.com/CityHallLiveOnline/live_videos/
Donate: https://unisonfund.ca/donations/spotify
Wavelength is thrilled to present a livestream performance by DESIIRE as part of City Hall Live Online!
DESIIRE is a Democratic Republic of Congo Born, Toronto based artist who delivers a unique blend of R&B, Afro, Electronic & Hip-Hop to create music that is filled with hypnotic instrumentals and moody simplicity. Influenced by soul contemporaries such as Erykah Badu, D'angelo, Lauryn Hill, Maxwell and pioneer African artists such as Papa Wemba, Koffi Olomide, Youssou Ndour & Femi Kuti, DESIIRE has become known for his gospel inspired vocals, Afro infused, rap staccato cadences and engaging story-telling songwriting.
Over the past 2 years, he has been featured in Billboard, The Fader, Afropunk, Noisey Vice, Exclaim as well as graced the stage at festivals such as Manifesto, Pop Montreal, Luminato, Canadian Music Week, Toronto Pride and opening and playing alongside artists such as Ari Lennox, Haviah Mighty and more.
This year has also seen DESIIRE expanding his talents behind the scenes on CBC & HULU's director RT's network TV shows " Utopia Fall " in which he serves as one of the series vocal producer working alongside hit producer Boi 1Da.
He continues this year with being named as an " Artist To Watch in 2020 " by Manifesto, Exclaim and Billboard.
About the co-presenter:
Doors Open Toronto is a free weekend celebration that creates access to, heightens awareness of, and generates excitement about Toronto's architecture, history and urban design. More than 150 of Toronto's most historic, cultural and/or architecturally significant buildings, many not normally open to the public, open their doors for tours and/or special programs. Doors Open Toronto presented by Great Gulf takes place each year on the weekend following Victoria Day. This year's event has been cancelled due to COVID-19.
The theme for Doors Open Toronto 2020 was "Open TO Music", celebrating the past, present and future of Toronto's multifaceted music scene while exploring the influence and impact of music and sound on the city's development.https://www.wavelengthmusic.ca/
no images were found
[/types]']
---
---
UPCOMING SHOWS