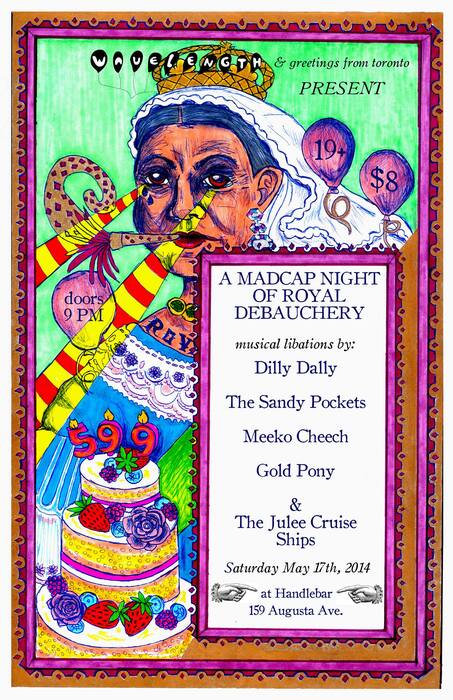 May 17

Handlebar

9:00 PM

19+
Wavelength & Greetings From Toronto present:
You've been cordially invited to a masquerade of debauchery by the decrepit ghost of Queen Victoria herself. She's making a not-so live appearance for the first time in 113 years and feels like getting nasty. Come hang out with a paper mache, replica of her, filled with chocolate bars and booze tickets and dance your peasant asses off to music that would've scared the shit out of her.
DILLY DALLY
http://dillydally.bandcamp.com/
One delicious 90's bologna sandwich, with less lips and assholes. More of a post-pig-out delirium but seriously they are wicked.
THE SANDY POCKETS (playing a late night drunken dance party set)
http://www.thesandypockets.com/
This surfy quartet belongs in a '50s diner with a bunch of poodle-skirt-wearing, milkshake-drinking, swing-dancing young-un's, but they're stuck with us in the 21st century and are just going to have show us how to rock it, Pleasantville style.
MEEKO CHEECH
http://meekocheech.bandcamp.com/album/motif
An odyssey that starts in the desert and ends in space. Twinkly guitars over-layed by the echoes of migrating whales and ghostly voices all the while chugging along to a driving drum beat that keeps you swinging.
GOLD PONY
https://soundcloud.com/goldpony-to
Dark and scruffy, with a jaded vocal style overlaid by a youthful hopefulness.
THE JULEE CRUISE SHIPS
http://youtu.be/srqIymNRVYc
A loungey Twin Peaks cover band that David Lynch could be proud of and would only be made better if they were fronted by the embodiment of Satan as a dwarf singing backward but played forwards.
+ DJ ARP 2600 & DJ Little Kicks
++ General Chaos Visuals
+++ Interactive art by Greetings from Toronto
Saturday, May 17th
@ Handlebar (159 Augusta Ave.)
Doors 9pm 19+
$8
Wavelength #599: Programmed by Dorice Tepley
Poster design by Greetings From Toronto's Natascha T Malta
+ DJ ARP 2600 & DJ Little Kicks & General Chaos Visuals