Wavelength Monthly: Swagger Rite + LolaBunz + 730Rarri
---
Friday, October 18, 2019

254 Lansdowne
254 Lansdowne Ave
8:00 PM
19+
$10 advance | $15 at the door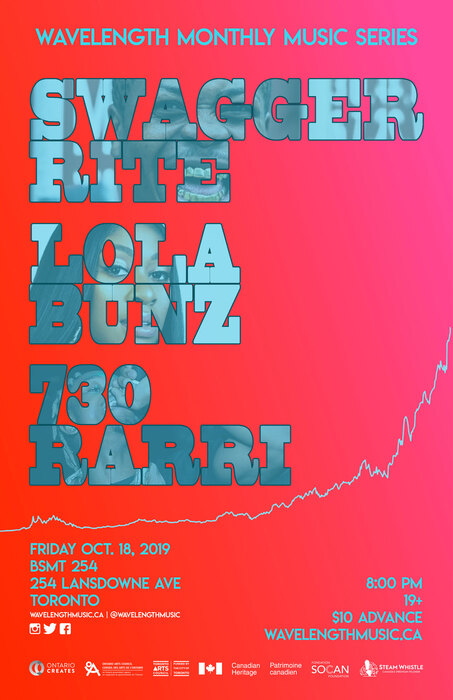 Swagger Rite (Toronto)
LolaBunz (Toronto)
730Rarri (Toronto)
++ General Chaos Visuals
Friday, October 18, 2019
BSMT 254 – 254 Lansdowne Ave., Toronto
Doors 8pm – $10 advance / $15 door – All Ages & Licensed.
* Advance tickets available at ShowClix, Rotate This & Soundscapes
Wavelength's Monthly Music Series is proud to present an incredible night featuring the new sound of Toronto hip-hop::
Swagger Rite ::
Growing up on the Southside Weston road/Jane street area (121 Humber Blvd), Toronto rapper Swagger Rite has seen a life full of dualities; success and heartbreak, hustling and blue collar work, fame and dead ends. But it's these same dualities that envelophis music so strongly and allows him to share the complexities of his community.
Swagger Rite's first taste of the industry came through his dance group, Rated PG, when he was 13 years old. After winning a competition in 2005 called 'You Got Served', Director X (Drake "Hotline Bling", French Montana "Famous", Zayn "Like I Would") signed the group. They would end up performing in Rihanna's "Pon Di Replay" that same year, however, for Swagger, it wasn't enough.
"I was watching a lot of artists coming up around 2011, 2012. I didn't really like a lot of music coming up and thought I could do better. I was always good at freestyling, and my cousin $ha Hustle was already doing numbers so I just started going to the studio with him and started rapping," he says. In 2016, Swagger Rite made his rap debut with the mixtape, P.O.M.E. (Product Of My Environment), a gritty trap infused tape filled with street tales, which resulted in a quick growing social media fanbase and Soundcloud following with over 2 million streams to date. Though much of his music is rooted in trap music, the self described "old soul" finds much influence in the Golden era of rap music: Tupac, Bone Thugs N Harmony, Method Man, Redman, Cypress Hill, and Big Daddy Kane, to name a few. With his rap knowledge in one hand, Swagger Rite then turned to the likes of Gucci Mane, Waka Flocka and OJ Da Juiceman for that swag. "They always used to say 'swagger right shawty'."
Growing up, I was always a fly kid… I grew up getting money at a young age. People were always fascinated by me when I'd come around because I stopped wearing Jordans and started wearing all designer. They were like, 'Yo, swagger right shawty!' you know? It just stuck." On the heels of "In Love With The K"(ft. BlocBoy JB) and "Drop Top" (ft. Yella Beezy and Flipp Dinero), Swagger Rite will be releasing a new EP filled with trappy melodic hits and moshpit anthems later this year.
"As far as Toronto is concerned, I don't sound like anything here. I'm just different. I can rap, I can sing, I can do a rock song… I'm just an all around player."
LolaBunz :: LolaBunz is making big strides in representing female emcees in the City of Toronto in her hope to be a voice for the unheard. Born and raised in Jane & Finch, LolaBunz brings a different approach to the game, through her own unique style and vocal ability. At 21 years of age, LolaBunz has already performed on various stages and at some of the city's largest urban music festivals, including 106 & York. She has already landed radio interviews with some of the city's hottest DJs and radio hosts such as DJ Mel Boogie and JJ Rocks, and received props from female emcees south of the border such as Lady Luck and recognition from Toronto's own Michie Mee.
730 Rarri :: Music has always uplifted people and there are musicians who will make you happy. 730RARRI knows how to make fans crazy. The sophistication and the energetic kind of flow will turn your day into a beautiful one. He got his musical inspiration from Young Thug and 7Hunna and has great power and productivity. His music has a mix of hip hop, trap, and soul, and consists of love, life and passion. The pious quality and exciting kind of flow will remain with you forever.
NEW VENUE IN TOWN!!
BSMT 254 – 254 Lansdowne Ave.
8pm – 19+
🎫 Tickets on sale now: $10 adv at wavelengthmusic.ca 🎫
$15 at the door.
Sponsored by Steam Whistle Brewing.
Please note: unfortunately this venue is not wheelchair accessible
⚡️ Admission included in the Wavelength Passport! ($99.99 for full-year All Access Passport including admission to Wavelength Summer Festival and Wavelength Winter Festival). ⚡️
Wavelength respects the rights of each member of our diverse audience, and is committed to providing an environment in which everyone can feel safe. Any behaviour which could reasonably be perceived as physically, emotionally, or mentally harmful to individuals at Wavelength events will not be tolerated. This includes: racism, sexism, homophobia, transphobia, body shaming, ableism, ageism, and all forms of violence. Please be respectful of others and help Wavelength create a fun and safer space for everyone.
For information on Wavelength's Code of Conduct and Anti-Harassment and Violence policies, please visit https://www.wavelengthmusic.ca/about/wavelength-policies/
no images were found
[/types]']
---
---
UPCOMING SHOWS