Nov 9

Brothers Dressler
225 Sterling Road, Unit 16, Toronto
8:00 PM
All Ages
$10 advance | $15 at the door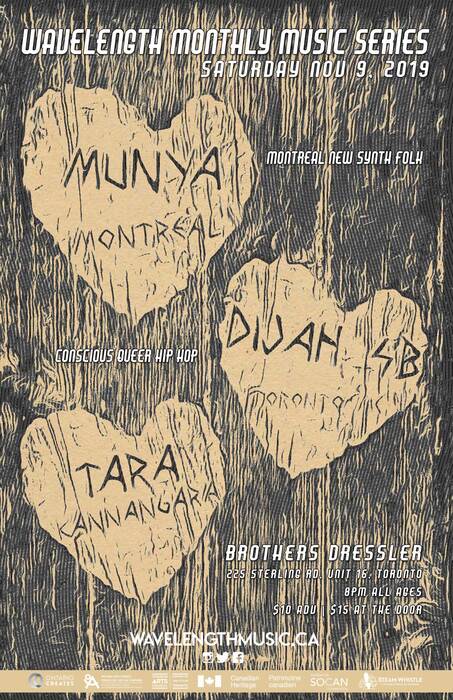 Nov 9

Brothers Dressler

225 Sterling Road, Unit 16, Toronto

8:00 PM

All Ages

$10 advance | $15 at the door
Munya (Montreal)
DijahSB (Toronto)
Tara Kannangara (Toronto)
++ General Chaos Visuals
Saturday, November 9, 2019
Brothers Dressler – 225 Sterling Road, Unit 16, Toronto
Doors 8pm – $10 advance / $15 door – All Ages & Licensed.
* Advance tickets available at ShowClix
Wavelength Music's monthly music series brings internationally renowned artist Munya to Toronto for her only Canadian stop on her international tour, along with acclaimed MC DijahSB. This show takes place in a fabulous new venue, the eclectic woodworking studio Brothers Dressler!
MUNYA :: MUNYA began playing classical piano at the age of 4 until her teenage years where she began performing and studying opera and classical vocal techniques. She slowly honed her voice and learned to become a "Coloratura" and qualified for several competitions, including "Canimex Canadian music competition" at the age of 16. She then paused her study of classical music and took a deep interest in Jazz. She began a program at the University of Montreal where she studied Jazz and fell in love with the works of Bill Evans, John Coltrane and Nina Simone. After her University time she began collaborating and touring as a keyboardist and back up singer with other Montreal artists including Alex Nevsky, Philemon Cimon, Ouri, and Sterling Grove.
Dijah SB :: Dijah, born Kahdijah Payne, is a clever and agile emcee whose rhymes are as witty as they are honest. She takes a balanced approach to her music, fusing candid, personal lyrics with modern beats and infectious hooks. A true artist, Dijah is adaptable and innovative, always finding ways to put her own stamp on emerging music trends. She navigates different sounds with ease from drum-heavy boom bap to dark, grungy rock, to trap's booming bass. Her talents have led her to appear on Sway in the Morning, BET's Freestyle Friday reboot and, in 2018, on stage with her idol Jay Electronica.
Dijah cites influences like Kid Cudi, Pusha T, and Lupe Fiasco and her music encapsulates a bit of each of them: like Cudi, she's open about her experiences with depression and injects her rhymes with vulnerability. She has the same cocksure confidence as Push and, like early Fiasco, an endearing relatability. Tying everything together is a unique perspective that's all her own: stories of a young, Black queer woman who loves Toronto as much as she loves her Nike SBs.
Tara Kannangara :: Categorizing her diverse sound is a difficult proposition. Juno- nominated artist, Tara Kannangara is meshing Jazz, Pop, Electronic-synth music, musical theatre, whatever moves her. This hasn't stopped her from cultivating a singular voice that is captivating audiences all over North America.
Growing up in Chilliwack, BC, she studied classical piano and singing from an early age. She was active in musical theatre and choirs, then picked up the trumpet in high school, concentrating on classical before later moving into jazz. Tara studied at the University of Victoria and concentrated on classical trumpet and vocals; later, Tara moved to Toronto to pursue jazz studies at the University of Toronto where she came into her own as a performer and songwriter.
Tara's group has been awarded the 2016 Julian Award for excellence in emerging Canadian jazz artists, the Sting Ray Rising Star Award as a part of the TD Montreal Jazz Festival and her debut album "Some Version of the Truth" has been nominated for a 2016 Juno Award for Vocal Jazz Album of the Year.
NEW VENUE IN TOWN, AN ECLECTIC WOODWORKING STUDIO!!
Brothers Dressler – 225 Sterling Road, Unit 16
8pm – All Ages & licensed
🎫 Tickets on sale now: $10 adv at wavelengthmusic.ca 🎫
$15 at the door.
Sponsored by Steam Whistle Brewing.
Please note: this venue is wheelchair accessible
⚡️ Admission included in the Wavelength Passport! ($99.99 for full-year All Access Passport including admission to Wavelength Summer Festival and Wavelength Winter Festival). ⚡️
Wavelength respects the rights of each member of our diverse audience, and is committed to providing an environment in which everyone can feel safe. Any behaviour which could reasonably be perceived as physically, emotionally, or mentally harmful to individuals at Wavelength events will not be tolerated. This includes: racism, sexism, homophobia, transphobia, body shaming, ableism, ageism, and all forms of violence. Please be respectful of others and help Wavelength create a fun and safer space for everyone.
For information on Wavelength's Code of Conduct and Anti-Harassment and Violence policies, please visit https://www.wavelengthmusic.ca/about/wavelength-policies/