Mar. 18

Gladstone Hotel (Melody Bar)
1214 Queen St. W.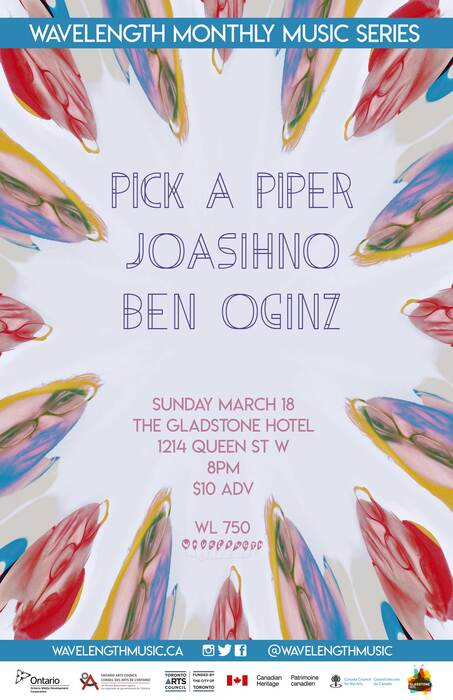 Mar. 18

Gladstone Hotel (Melody Bar)

1214 Queen St. W.

7:30pm

$9.99 advance
Wavelength Monthly Music Series
March 2018 featuring:
Pick A Piper (Toronto / Dreamy global-electronic trio, member of Caribou)
Joasihno (Germany / Psychedelic music machine from Munich, member of The Notwist)
Ben Oginz (Toronto / Sci-fi instrumental soundscapes, member of Mimico)
+ General Chaos Visuals
Sunday, March 18
Gladstone Hotel (Ballroom), 1214 Queen St. W.
7:30pm – $9.99
* Advance tickets available at Ticketfly.com
Wavelength marks its 750th show with a psychedelic electronic line-up featuring special guests from Germany!
The March 2018 installment of Wavelength's ongoing Monthly Music Series marks a special occasion: the community organization's 750th concert! Hot on the heels of its 18th anniversary at its Winter Festival (February 16-18) this momentous milestone will be celebrated with some special guest artists visiting from Germany alongside the talented Toronto artists Wavelength has championed since its inception back in 2000.
"Psychedelic music machine from Munich," the ambient electronic pop duo Joasihno includes Cico Beck of German post-rock pioneers The Notwist. Their live set-up "combines robot instruments, electronics, and trashy percussion." Crossing the pond to perform at SXSW in Austin TX, Toronto is very lucky to be one of only a handful of additional North American dates for Joasihno!
They are joined on March 18 at the Gladstone Ballroom by dreamy Toronto psych-electronic trio Pick A Piper, led by Caribou member Brad Weber, who close the night with their dance-floor-ready tracks. The night will kick off with a solo set by Mimico member Ben Oginz, performing his "eerie, instrumental pseudo-film-score" electronic sci-fi works. It's a rare, one-off return to a Sunday evening for the Wavelength music series, which once ran as a weekly on Sunday nights. All who crave adventurous sounds are encouraged to come out and take part in this Toronto tradition of discovering the new.