Apr 13

Brothers Dressler
225 Sterling Road, Unit 16
9:00 pm
All Ages
$10 in advance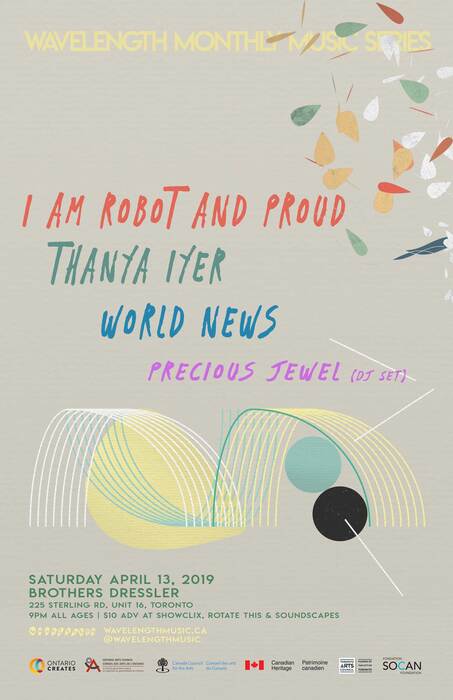 Apr 13

Brothers Dressler

225 Sterling Road, Unit 16

9:00 pm

All Ages

$10 in advance
Wavelength Monthly Music Series – April 2019
I Am Robot and Proud – 10pm (Toronto / computer pop since the year 2001)
Thanya Iyer – 11pm (Montreal / sparkling experimental pop)
World News – 12am (Toronto / psychedelic synth duo)
* Please note set times are listed in PERFORMANCE ORDER!
+ General Chaos Visuals
++ Precious Jewel (DJ set)
Saturday, April 13, 2019
Brothers Dressler – 225 Sterling Rd. Unit 16
Live Music in a Furniture Design Studio!
For the April installment of its ongoing Monthly Music Series, Wavelength takes over a very unique DIY venue! Hosting its first live music event, Brothers Dressler is a Toronto furniture design and manufacturing company, focusing on responsibly sourced materials, including reclaimed wood and steel. At their studio on Sterling Avenue, Wavelength will present an evening of electronic/acoustic, experimental pop sounds.
Known for its thoughtful curation and championing of emerging musical artists across Canada, at its Monthly Series concert for April, Wavelength will present the long-running electronic pop project I Am Robot and Proud, the musical project of digital artist Shaw-Han Liem – who performed at the Wavelength series during its first year back in 2001 – who will perform in a live trio format, in support of their eighth album, Lucky Static. They are joined by Montreal-based artist Thanya Iyer, an enigmatic songwriter who crafts sparkling experimental pop music, and will also perform with a live trio. The night will be closed out by Toronto psychedelic synth duo, World News, part of the burgeoning Safe Sounds collective – who perform with 100% live hardware.
Between-band sounds will be provided by Precious Jewel (DJ set) and visual stimuli by General Chaos Visuals. Affordable imbibements will include Steam Whistle Pilsner and Von Bugle Lager. The woodworking studio will be open and audience members may check out some of Brothers Dressler's pieces.
* Physically Accessible Venue
🎫 Tickets $10 Advance at ShowClix + Rotate This + Soundscapes 🎫
At the Door: $15
⚡️ Admission included in the Wavelength Passport! ($99.99 for full-year All Access Passport including admission to Wavelength Summer Festival and Wavelength Winter Festival). ⚡️
Wavelength respects the rights of each member of our diverse audience, and is committed to providing an environment in which everyone can feel safe. Any behaviour which could reasonably be perceived as physically, emotionally, or mentally harmful to individuals at Wavelength events will not be tolerated. This includes: racism, sexism, homophobia, transphobia, body shaming, ableism, ageism, and all forms of violence. Please be respectful of others and help Wavelength create a fun and safer space for everyone.
For information on Wavelength's Code of Conduct and Anti-Harassment and Violence policies, please visit https://www.wavelengthmusic.ca/about/wavelength-policies/