Wavelength May Long Distance Party with Rapport
---
Saturday, May 16, 2020

Side Door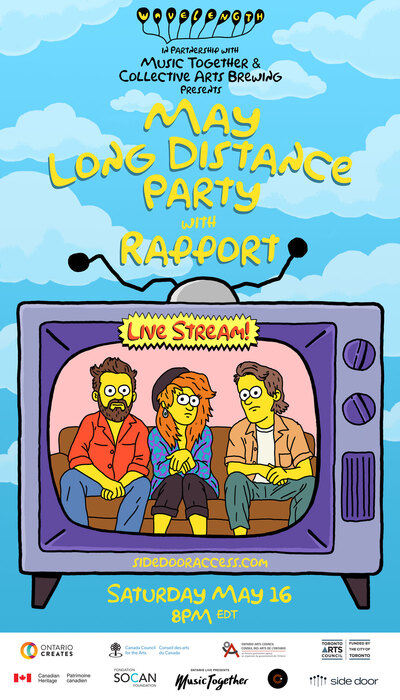 Wavelength presents…
In partnership with MusicTogether & Collective Arts Brewing:
May Long Distance Party
feat. RAPPORT
Saturday May 16
8PM EDT
FREE w/ RSVP @ sidedooraccess.com
A livestream show like no other!!! It's the May long weekend so let's all hang out social-distance style: Zoom with your pals and people-watch like you're attending a "real show" at the venue.
Toronto indie pop trio Rapport just moved into a new house – well, front-couple Maddy and Kurt did – and this will also be their housewarming party. Bandmate Mike will join in from the porch, to maintain safe distancing. The band has some surprises in store, so you're going to want to buy a virtual houseplant to get set for THIS housewarming!
Make it feel like a night out while you stay in, by ordering your show-brews through Collective Arts Brewing: Get free shipping in Ontario on your drink order when you RSVP! Contact-less home delivery available.
This will also mark Wavelength's first show as a curator for Side Door. Co-founded by singer/songwriter Dan Mangan, Side Door is an artist-centric show platform and zine. With online shows hosted through Zoom, Side Door shows take the livestream experience to the next level.
About the band
Rapport is the new project of Maddy Wilde (formerly of Moon King), glam grunger Kurt Marble and Mike Pereira (of Most People). The trio infuses harmonic stylings of the '50s with dreamy keyboard soundscapes of the '80s and ties it all together with a fun/sad baroque pop twist. Their debut EP, In The Dark, came out in fall 2019 on Montreal's Arbutus Records – home of Grimes, TOPS, Braids, Majical Cloudz and more.
Supported by MusicTogether, Collective Arts Brewing, Ontario Creates, Shopify, Slaight Music, Arts & Crafts, Ontario Arts Council, Toronto Arts Council, the Canada Council for the Arts, Department of Canadian Heritag, and the SOCAN Foundation.
no images were found
[/types]']
---
---
UPCOMING SHOWS