Nov 22

TD Music Hall
178 Victoria St, Toronto, ON M5B 1T6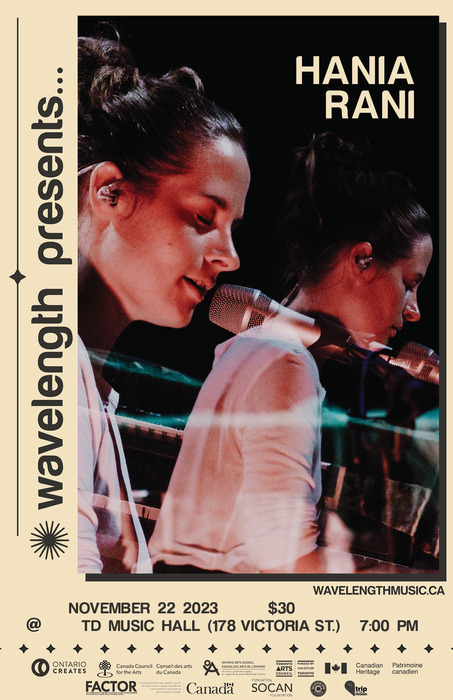 Nov 22

TD Music Hall

178 Victoria St, Toronto, ON M5B 1T6

7pm

All Ages

$30 adv
Wavelength presents
Hania Rani
(Warsaw, Poland // neo-classical piano dreamscapes)
As part of the Wavelength Monthly Music Series
Wednesday, November 22, 2023
@ TD Music Hall, 178 Victoria St., Toronto
Doors 7pm
Concert 8pm
SOLD OUT
ALL AGES + Licensed
A year after her sold-out Wavelength debut, Polish composer Hania Rani is back to grace Toronto with more ethereal neo-classical piano magic. And there's so much to draw from. Her recent output has focused on her score work, including 2021's 'Music for Film and Theatre' highlight reel and 2023's 'On Giacometti,' for Susanna Fanzun's documentary 'The Giacomettis' on Swiss sculptor Alberto Giacometti and his equally renowned family. Meanwhile, she has a third proper solo album due for release later this year, which she says is themed around "ghosts, spirits, and the little bits in between life and death." Those spirits will certainly abound at the TD Music Hall.
Photo by Green Yang
COVID Protocols:
PLEASE WEAR A MASK. Though we have returned to in-person events, we acknowledge the pandemic is still ongoing. In the spirit of community care, mask-wearing is requested at Wavelength except when eating or drinking. A supply of free KN95 masks will be available at the door. Rapid tests will also be available, if audience members wish to test prior to entry. If you are experiencing symptoms of COVID-19, please stay home. Thank you for your understanding and compassion!
Accessibility:
The TD Music Hall is fully wheelchair accessible. For all other accessibility requests, please contact us at info@wavelengthmusic.ca.
Audience Policy:
Wavelength respects the rights of each member of our diverse audience and is committed to providing an environment in which everyone can feel safe. Any behaviour which could reasonably be perceived as physically, emotionally, or mentally harmful to individuals at Wavelength events will not be tolerated. This includes: racism, sexism, homophobia, transphobia, body shaming, ableism, ageism, and all forms of violence.
Please be respectful of others and help Wavelength create a fun and safer space for everyone. If you need help, or see others in need of help, please talk to a Wavelength staff member or volunteer.
Ticket Purchase Policy:
Please note that all ticket sales are final and non-refundable. We may occasionally offer ticket refunds in limited circumstances, such as events that are canceled, postponed or rescheduled.