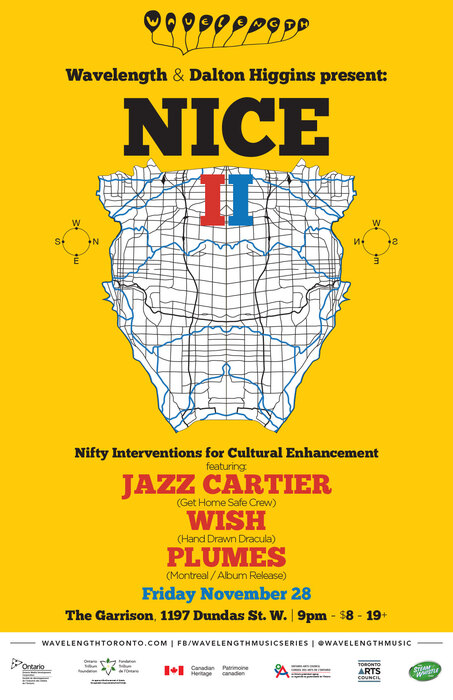 Nov 28

The Garrison

9:00 PM

19+
Wavelength & Dalton Higgins present
NICE II
(a.k.a. Nifty Interventions for Cultural Enhancement – Volume 2)
Featuring:
Jazz Cartier (Toronto/ Get Home Safe Crew)
Wish (Toronto / Hand Drawn Dracula Records)
Plumes (Montreal / Album Release Tour)
+ more to be announced!
Friday November 28, 2014
@ The Garrison, 1197 Dundas St. W.
Doors 9pm – 19+
Tickets $8 advance at Ticketfly.
"WHAT'S NEXT, TORONTO?!"

Back in April, Wavelength's Jonny Dovercourt and co-conspirator & global/urban music promoter Dalton Higgins put their heads together to bring you the first "NICE" party ("Nifty Interventions for Cultural Enhancement"). The multi-genre culture clash aimed to create a live showcase that better reflected the musical and demographic diversity of the city – and the people came, and saw that such a thing was possible, and awesome.
With a new Mayor of Toronto elected and a different leadership style to be deployed… now what? We can't predict what will happen at City Hall, but we can say that NICE II will happen Nov. 28 at the Garrison, and will include hype rapper Jazz Cartier (Get Home Safe Crew), slack-rockers Wish (Hand Drawn Dracula Records) and Montreal chamber-pop crew Plumes (album release tour). Plus more NICE-ness to come!!
Poster design by Derek Ma