Wavelength: Community Consultation
---
Wednesday, November 21, 2018

Toronto Media Arts Centre
32 Lisgar St.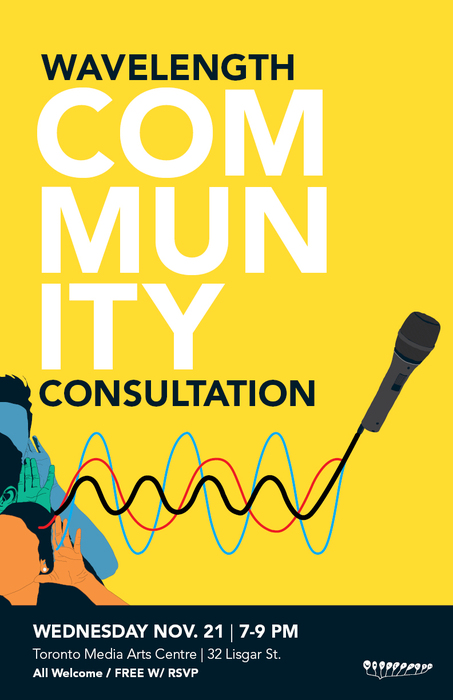 Wavelength: Community Consultation
An Evening for Listening & Transparency
Wednesday, November 21, 2018
7-9pm
Toronto Media Arts Centre, 32 Lisgar St.
All Welcome and Free – First Come First Served Based on Capacity
**Note: more information and documents to be distributed closer to the meeting date**
To the Toronto Music Community:
Wavelength Music invites you to participate in a Community Consultation. This evening will be an opportunity for us to hear your feedback on our series and discuss how we can create a more inclusive, supportive environment.
We, as an organization and as individuals involved in the independent music community, want to gather together to reflect, talk, and listen – in an effort to look forward to the future.
The session will be co-facilitated by Wavelength Board member and arts administrator Sally Lee and Jeanne LeSage, an HR consultant from LeSage Arts Management, with participation from Jonathan Bunce, Artistic Director, and other members of Wavelength's Board of Directors.
If you are not able to come, or want to provide feedback anonymously – we invite you to use this form to submit your comments: https://goo.gl/forms/buluSjb6w2tIVwKB3
What will be discussed at the Wavelength Community Consultation:
The aim of this evening is to work collectively towards building on our 18 years of supporting independent music in Toronto. Our desire is to ensure that Wavelength champions the vibrant and diverse independent music communities in our city – and beyond – in an authentic and meaningful way.
Community feedback we have received and want to discuss includes, but is not limited to:
Transparency in decision-making – booking policy, artist fees, and more
Including a wider diversity of programming voices
Clarifying the role of the Board and the role of management
Addressing the elephant in the room:
This session is not being held to re-open the discussion around the allegations of fostering a hostile work environment made against Jonathan "Jonny Dovercourt" Bunce by a former employee on social media this past summer. The reason for this is that the organization undertook a formal, impartial investigation process. As the independent investigator found no evidence to support the allegations, after two months of administrative leave, Jonny was reinstated with the full support and confidence of the Board. Hiring the external independent investigator was not only compliant with the law, but also protected the privacy of all parties. We are open to answering questions about the process of the investigation, but to maintain confidentiality, we will not be discussing any sensitive details of the investigation at this consultation event. [Read the reinstatement announcement here.]
We as an organization recognize that this was a difficult and emotional process for all involved and we do not want to diminish the fact that some members of our community came forward to share that they have had negative experiences at Wavelength in the past. We do not take that lightly. We have heard from the community and it's clear that there are things that the organization can do differently and do better.
New Workplace Anti-Harassment Policy:
While we have always aimed to make our events as safe and harm-free as possible, the discussions that took place this summer encouraged us to move forward with instituting a new workplace anti-harassment policy, which we are now able to share with you. If you have experienced or witnessed harassment or misconduct at Wavelength, we invite you to follow the reporting process included in the policy: http://bit.ly/WLpolicies
A Personal Statement from Jonny Dovercourt:
"Since the start of our series, I have aimed to make Wavelength a positive experience for performers and participants alike by encouraging a nurturing, supportive, inclusive environment. I am sincerely committed to ensuring that all those involved with Wavelength are treated with due care and empathy, and that artists and arts workers are fairly compensated. I look forward to working with the Board to strengthen policies and procedures to support this.
I know this summer was upsetting for many involved in our community. It is my hope that this experience will result in us having more productive dialogue with each other, so that Wavelength can grow into an even stronger and more supportive organization. I care deeply about the health and well-being of our independent music community and welcome the opportunity to receive feedback from the people our series was designed to celebrate. I will be there on Nov. 21 to listen and learn."
From the Wavelength Board of Directors:
"We are here as volunteers to provide oversight and leadership for Wavelength on behalf of the various independent music communities in this city. We acknowledge that in order to do this properly, we will need to hear from as many voices as possible. We are committed to taking everything that has been learned in recent months to focus on how we can grow and strengthen our governance. It is our goal that years from now, we will be able to look back on this period of Wavelength's evolution as one in which we made meaningful strides in the right direction. This work is not easy, and it's going to take time. In the meantime, we hope you will join us on November 21st, we are here to listen."
If you are someone who cares about independent music, fair and respectful treatment of artists and workers, and is excited about working with others who are also looking to make positive change in the community, please come… and encourage your friends to come too! We cannot do this without you!
Please note: Staff and Board are currently working to compile background documents that will provide valuable information about the organization's operations in advance of the consultation, along with a request for input which we will send out closer to the date. For those not able to attend the consultation, or those who prefer to remain anonymous, we invite you to use this form to submit your comments: https://goo.gl/forms/buluSjb6w2tIVwKB3
Signed:
Wavelength Staff
Jonathan Bunce, Artistic Director
Aaron Dawson, General Manager
Wavelength Board of Directors
Dean Williams, Interim President
Matthew Seymour, Secretary
Jonathan Craske, Treasurer
Scott Ingram
Sally Lee
Jonathan Shedletzky
Rich Taylor
no images were found
[/types]']
---
---
UPCOMING SHOWS