Wavelength at NXNE: Cellphone, We Were Heads, Ostrich Tuning, Mexican Slang, Prom at Creatures Creating
---
Friday, June 14, 2013

Creatures Creating Gallery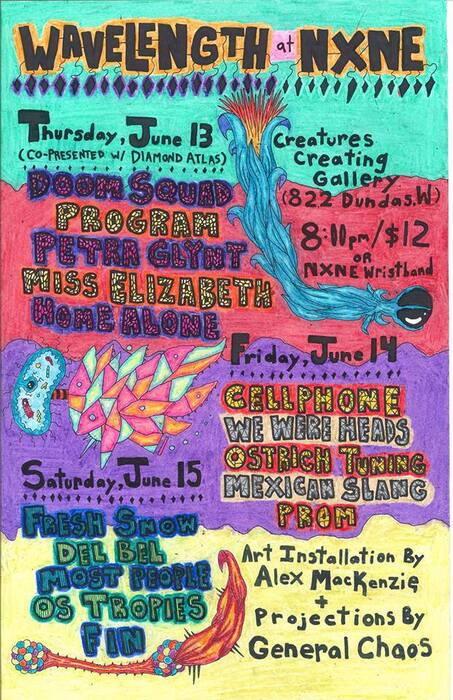 June 13 through 15, Wavelength sets up shop at Creatures Creating Gallery for a trio of showcases for NXNE. Friday night we rip it up and start again with synth-punk, garage-rock, psych-fuzz and moody drones from the cobwebby, cassette-strewn corners of the Toronto underground.
Creatures Creating Gallery, 822 Dundas St. W.
Admission with NXNE wristband or $12 at the door.
Toronto – Spasmodic synth-punk that'll rip your drums. Sewage-washed effects and demented vocals curdling over bone-cracking rhythm. Bring your brass knuckles and maybe some pizza.
Toronto – From the church of holy reverb, a velvet prayer to the gods of
tonality. Share a pair of Walkman headphones and bliss out to their
lovely new tape, In her highest Moon.
11pm – WE WERE HEADS
Toronto – Howlin' wolfhound scuzz-rock from a Mesozoic swamp. A power-slop trio for garage-sale VHS tape addicts.
10pm – MEXICAN SLANG
Toronto – Nasty garage-grunge smeared with surf rock. Annabelle Lee's overdriven shrieks terrorize while Denholm Whale (Odonis Odonis) murders the kit.
9pm – PROM
Toronto – Your heart, broken in two by Daniel Wilson and Sufian Malik. World-weary vocals and gorgeous, dueling echo-chamber guitars are the soundtrack to staring at old photos of lost loves.
+++ DJ Alpha Strategy \\ Playing groovy 60s girl groups, obscure post punk, and other non-compliant selections
PLUS VISUAL ENHANCEMENTS:
Art installation by Alexandra MacKenzie
Projections by General Chaos Visuals
no images were found
[/types]']
---
---
UPCOMING SHOWS