Aug 13

Facebook Live
fb @wavelengthmusic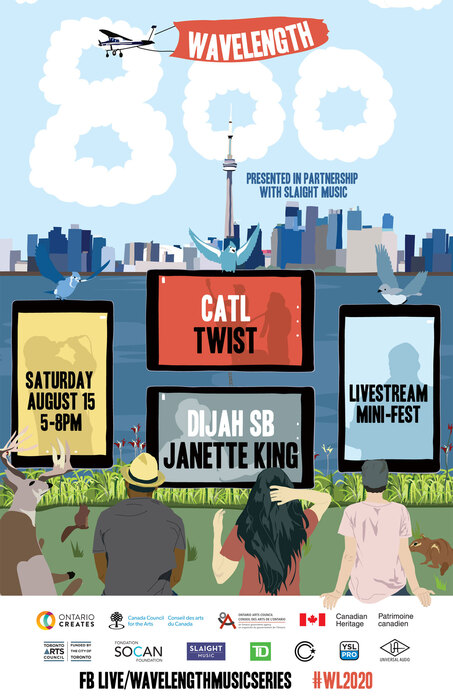 Aug 13

Facebook Live

fb @wavelengthmusic

6 PM
Wavelength 800
Livestream Mini-Fest
In partnership with Slaight Music
Featuring:
CATL. – 5 PM
Twist – 6 PM
DijahSB – 7 PM
Janette King – 8 PM
+ Hosted by comedian Arianne Tong (writer for The Beaverton, host of Question Everything Trivia)
Saturday August 15, 2020
5-9PM EDT
Tune in: FB Live /wavelengthmusicseries
#WL2020
💰✊🏿 PWYC – donations accepted in support of BLAC (Black Legal Action Centre)
🍺 🍕 Make it feel like a "real show" by ordering refreshments from Collective Arts Brewing – who are offering free home delivery of their beer, cider & spirits for all attendees with the promo code "WAVELENGTHFRIENDS"- and order food from Ambassador, a new homegrown app supporting local restaurants.
On August 15, Wavelength presents its 800th show!
As part of its 20th anniversary celebrations, Toronto's long-running independent music organization marks the occasion of reaching its ninth "century" of community gatherings with a livestream mini-festival on Facebook Live – Wavelength 800. Though live music remains mostly shut down due to COVID-19, Wavelength remains committed to connecting diverse communities of creative musicians and curious audiences – only now in the online sphere.
Wavelength 800 keeps alive the tradition of the series' annual August summer festivals, going back to ALL CAPS! on Toronto Island. Aiming as ever to represent the diversity of independent musical expression in Toronto and Canada, the Wavelength 800 line-up includes fiery blues-punk duo CATL., non-binary underground hip-hop emcee DijahSB, Montreal alt-R&B singer/songwriter Janette King, and jangly new-wave popsters Twist.
Wavelength also remains committed to putting artists first: All the artists will be paid guaranteed fees to perform, while there is no charge for at-home viewers to tune in to attend the mini-fest. Canadian audio company YSL Pro will also be lending the artists equipment to help boost the quality of their streams.
As an added bonus, in support of Toronto's shuttered music venues, CATL. will be broadcasting their stream live from The Piston on Bloor Street West!
PWYC contributions to this show will be donated to Black Legal Action Centre, a non-profit community legal clinic that provides free legal services for low or no income Black residents of Ontario.
Supported by Slaight Music, Collective Arts Brewing, YSL Pro Audio, Ontario Creates, Ontario Arts Council, Toronto Arts Council, the Canada Council for the Arts, Department of Canadian Heritage & the SOCAN Foundation.