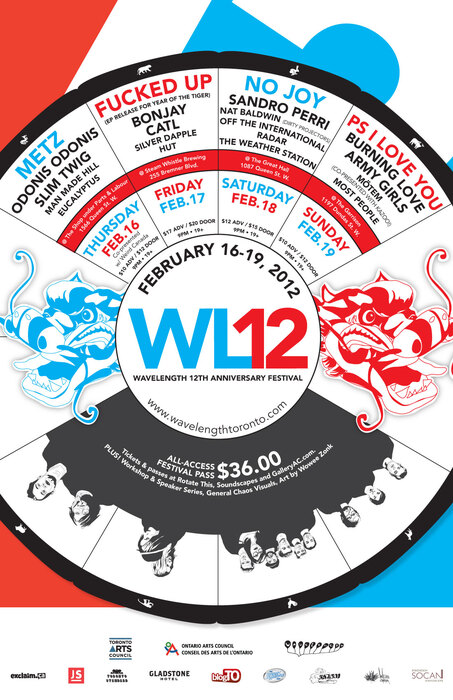 TWELVE: The Wavelength 12th Anniversary Festival
Feb. 16-19, 2012 – Toronto
Tickets now on sale!
ALL-ACCESS FESTIVAL PASS
Includes entry to all events: $36.00
BUY PASSES ONLINE AT GALLERYAC.COM!
2012 marks the 12th Anniversary of Toronto's Wavelength Music Series. The massively influential concert series had its humble beginnings at Ted's Wrecking Yard in February of the year 2000, but it quickly became ground zero for the independent music explosion which brought the likes of Broken Social Scene, Constantines, Holy Fuck, Feist, Peaches, Caribou and Fucked Up to the world.
TWELVE: The Wavelength 12th Anniversary will mark another fantastic installment of Toronto's finest curated music festivals, each night's line-up rolling out like a thoughtfully compiled mixtape.
Thursday Feb. 16 @ The Shop under Parts & Labour, 1566 Queen St. W.
Co-presented with Weird Canada
METZ (TO – heavy-hitting noise-rock power trio)
ODONIS ODONIS (TO – post-punk "surfgaze" trio / FatCat UK)
SLIM TWIG (TO- the psych-out-billy icon goes his own way with his new band)
MAN MADE HILL (TO – drugged-up disco-funk from the synth underground)
EUCALYPTUS (TO- Brodie West's calypso vibes, Tranzac style)
9pm * $10 adv / $12 door * 19+
BUY TICKETS ONLINE AT GALLERYAC.COM!
Friday Feb. 17 @ Steam Whistle Brewing, 255 Bremner Blvd.
FUCKED UP (TO – world champion psych-punk sextet & 2011 SPIN Album of Year winners celebrate the release new EP, Year of the Tiger / Matador Records – this show will feature live visuals by Suedath)
BONJAY (TO – electro-dancehall duo show off their new live show)
CATL (TO – The city's one and only blues-punk dance party)
SILVER DAPPLE (MTL- buzzy fuzzy punk pop quartet, straight from '93)
HUT (TO – Hooded Fang and Spiral Beach dudes park pop in the garage)
9pm * $17 adv / $20 door * 19+
BUY TICKETS ONLINE AT GALLERYAC.COM!
Saturday Feb. 18 @ The Great Hall, 1087 Queen St. W.
NO JOY (MTL- shoegazer punk / Mexican Summer Records)
SANDRO PERRI (TO – our soft-spoken prog-folk-disco hero plays songs from his acclaimed Impossible Spaces / Constellation Records)
NAT BALDWIN (Brooklyn, NY – Dirty Projectors bassist's urgent avant chamber pop)
OFF THE INTERNATIONAL RADAR (TO – influential electronic drone collective prep for a Euro tour with Nadja)
THE WEATHER STATION (TO – Tamara Lindeman's spacious banjo folk)
9pm * $12 adv / $15 door * 19+
BUY TICKETS ONLINE AT GALLERYAC.COM!
Sunday Feb. 19 @ The Garrison, 1197 Dundas St. W.
PS I LOVE YOU (Kingston, ON – pummeling indie noise guitar pop duo / Paper Bag Records)
BURNING LOVE (TO- Chris "Cursed" Colohan's hard-rocking hardcore crew)
ARMY GIRLS (TO – Carmen Elle and Andy Smith use guitar and drums to make pure pop)
MOTËM (Hamilton, ON – the electro-funk wild card / Co-presented with Kazoo!)
MOST PEOPLE (TO – poptimistic millennial electronica)
9pm * $10 adv / $12 door * 19+
BUY TICKETS ONLINE AT GALLERYAC.COM!
Advance tickets and passes also available at Rotate This and Soundscapes!
PLUS!
VISUAL ART INSTALLATIONS BY WOWEE ZONK
PROJECTIONS BY GENERAL CHAOS VISUALS
WORKSHOP & SPEAKER SERIES TO BE ANNOUNCED
Supported by:
Ontario Arts Council * Toronto Arts Council * The SOCAN Foundation * blogTO * Exclaim! * Toronto Standard * Just Shows * Steam Whistle Brewing * Gladstone Hotel
ABOUT WAVELENGTH Every year, Wavelength celebrates its birthday with a multi-night music festival, taking place at a different venue each night. In 2010, Wavelength turned 10 and threw the hugely successful Wavelength 500 Festival, which marked its 500th show and also the epic conclusion of its weekly Sunday night series. In the two years since then, Wavelength has successfully transformed its series into a monthly, mobile arts platform exploring new performance spaces beyond the traditional club circuit.
Wavelength 12th Anniversary Festival by wavelengthtoronto