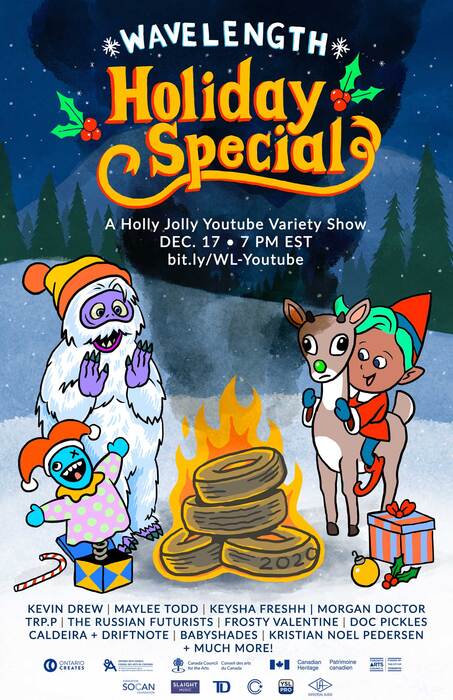 Dec 17

YouTube Live

7 PM EST

Free
Wavelength Presents –
in partnership with Slaight Music
The Wavelength Holiday Special
(A Holly Jolly Youtube Variety Show)
Featuring
Kevin Drew
Maylee Todd
TRP.P
The Russian Futurists
Morgan Doctor feat. Caylie Staples
Keysha Freshh
Frosty Valentine
Doc Pickles
Kristian Noel Pedersen
Caldeira and Driftnote premiering Starrchild Ellipse – Affection
Roxanne Ignatius
Stephanie Avery
With host Arianne Tong
Premieres:
Thursday Dec. 17, 2020
7 EST
Tune in: http://bit.ly/WL-Youtube
Order drinks from Collective Arts Brewing – free delivery w/ promo code "WAVELENGTHFRIENDS" !
#WL2020
Staying home for the holidays? OF COURSE YOU ARE! While we can't fix not being able to see your family, we can offer a distraction.
Pour yourself a big glass of eggnog and join in on our Wavelength Holiday Special, airing December 17th, 2020 at 7PM EST on Wavelength's Youtube channel. It's a Torontoish, localish, variety show hosted by beloved comedian, Arianne Tong. It will be cheesy, it will be fun, and it just might bring tears of joy.
Featuring performances from Kevin Drew, Maylee Todd, TRP.P, The Russian Futurists, Morgan Doctor feat. Caylie Staples, Keysha Freshh, Babyshades, Frosty Valentine, Doc Pickles, Caldeira + Driftnote, host Arianne Tong, and many more!
Put on your favourite sweatpants and tacky holiday jumper… because you're not going anywhere except online.
And if you're feeling thirsty, order drinks from Collective Arts Brewing and receive free delivery with the promo code, "WAVELENGTHFRIENDS" !
Poster design by Mike Pereira