A three-day tour celebrating the legacy of Ontario proto-punk pioneers Simply Saucer and their classic album, Cyborgs Revisited.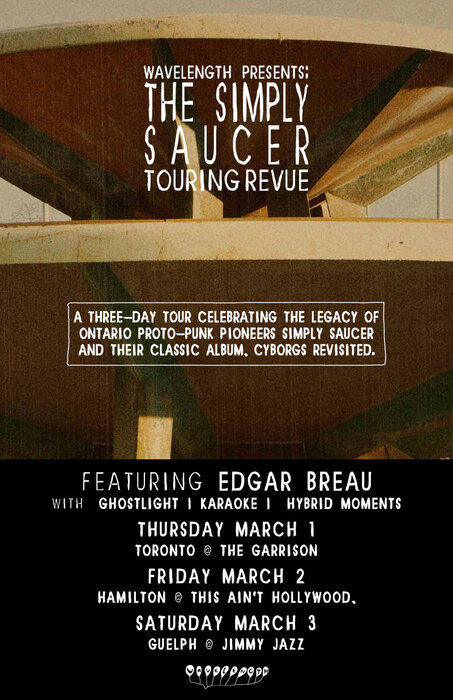 Mar 1

The Garrison

9:00 PM

19+
Announcing – March 1-3 around the Golden Horseshoe…
Wavelength presents:
THE SIMPLY SAUCER TOURING REVUE
A three-day tour
celebrating the legacy of Ontario proto-punk pioneers Simply Saucer and their
classic album, Cyborgs Revisited.
Featuring:
Edgar Breau
with Ghostlight
plus: Karaoke
and Hybrid Moments
THREE SHOWS!
Thursday March 1 —
Toronto @ The Garrison, 1197 Dundas Street West
** CD release for Edgar Breau's Patches of Blue **
9pm • Ticket $8 adv (Rotate This & Soundscapes), $10 door
Friday March 2 — Hamilton @ This Ain't Hollywood, 345 James Street North
** Simply Saucer full band performance! **
9pm • Ticket $$ TBA
Saturday March 3 — Guelph @ Jimmy Jazz, 52 MacDonell Street
Co-presented with Kazoo!
9pm • ** Free admission **
About the Simply Saucer Touring Revue
Simply Saucer are true living legends in the Canadian music community. First emerging from the steel belt
town of Hamilton, Ontario in 1973, the Saucer were unlike any other band on the scene at that time – influenced by The Velvet Underground, Pink Floyd, Sun Ra and Stockhausen, they were possibly the only Canadian band in the proto-punk movement, a north of the border equivalent to Pere Ubu and the Cleveland scene.
After moving to Toronto and being a part of the punk rock explosion, Simply Saucer called in quits in 1979. Their lone album Cyborgs Revisited inspired a generation of Canadian underground musicians, especially after its re-release by Sonic Unyon Records in 2003. Simply Saucer re-united in 2006, and the band remains active to this day. Cyborgs Revisited is rightly considered one of the greatest Canadian albums of all time, and songs such as "Bulletproof Nothing" and "Dance the Mutation" are undisputed classics. Frontman Edgar Breau has also maintained a fruitful parallel career as a solo singer/songwriter.
The Simply Saucer Touring Revue is the brainchild of Derek Westerholm, musician with Karaoke and The Creeping Nobodies, host/programmer of No Beat Radio on CIUT 89.5 FM and founding member of the Wavelength collective. A weekend long tour to three Southern Ontario cities, the Revue will celebrate the legacy and influence of Simply Saucer, as all the artists on the bill will perform material from Cyborgs Revisitedalongside their own material. Saucer frontman Edgar Breau will be joined on-stage by Toronto psychedelic rock enemble Ghostlight, the improvisational alter ego of Canadian shoegaze pioneers Mean Red Spiders. The full Simply Saucer band will appear at the March 2nd Hamilton show only. Opening sets will feature two Toronto electric guitar duos: Karaoke (Michelle Breslin and Derek Westerholm) and Hybrid Moments (Matt Vocabulary and Wavelength founder Jonny Dovercourt).
Artist bios
Edgar Breau is the founder, leader, singer, guitarplayer and songwriter for internationally acclaimed Canadian cult proto-punk-psych band, Simply Saucer. Cyborgs Revisited, recorded in 1974 but only belatedly released in 1989, was a fusion of the DNA of the Velvet Underground with early Pink Floyd, with lo-fi kitchen sink electronics humming in the blurry background as Edgar warned of cyborg invasions, instant pleasures and illegal bodies in a world gone very badly astray. In 1979, after the band's premature demise, Edgar retrofitted a Grit Laskin engineered acoustic guitar into his neo-Acadian psych and inspired by American primitive guitar icon John Fahey's groundbreaking
instrumentals, embarked on a new songwriting career, in the relative seclusion of his home, immune to the great transmogrifications of the nascent new wave scene. He emerged in 1989 to record a solo album, Canadian Primitive, at legendary Grant Avenue Studio. His new recording is called Patches of Blue and is a genre-hopping tour de force of songwriting inspiration arranged by some very heavy studio musicians including Bill Dillon (Bob Dylan, Joni Mitchell, Robbie Robertson) and Brian Griffith (Willie Nelson, Dan Lanois), with guests Colina Phillips and Mike Trebilcock (Killjoys), not to mention original Simply Saucer bassist Kevin Christoff. Patches of Blue, a Feb. 2012 release, has already
garnered great acclaim. Toronto Star columnist John Sakamoto in his Anti Hit List column, said "Abandoning the electric (and electrifying) mayhem of
his legacy, the solo Breau has created a sublimely atmospheric kind of melancholy that will be familiar to acolytes of everyone from Chet Baker to Robert Wyatt."
Ghostlight
Once described by Eye Weekly (RIP) as an "Eight-legged Kraut-rock war horse" Ghostlight has always managed to confuse and confound any sense of classification. Since its inception in 2005, the ensemble has stumbled along its singular and solitary journey practicing its unique brand of "Decomposition." Not fitting in the improv scene or with the local experimental music ghetto, Ghostlight seems to have found its niche within Toronto's noise scene. Developing close ties with Disguises, Ghostlight released the critically lauded Shade Grown on Kevin Hainey's InYrDisk label. Currently working on a new release slated for Spring 2012.
Karaoke are a duo. Literally, "karaoke" means "empty orchestra." This seems appropriate. Michelle Breslin (ex-Sadoceanspacebear) and Derek Westerholm (ex-Creeping Nobodies) are female/male vocals, guitars, loops, percussion, pedals, toys, and so-forth. At turns, savage and serene, haunting and haunted. They perform in lofts, galleries, garages, basements, music series, clubs, wherever so they happen to be.
Hybrid Moments hold guitars and play amps. Jonny Dovercourt and Matt Vocabulary's duo format is strictly guitar, effects and amps, and their approach is a combination of free improvisation and instant composition, though some songs and oddly arranged pieces may also play a role. Staying true to their punk rock and indie pop roots, while exploring their mutual interests in minimalism, noise and drone music, Hybrid Moments have been known to call their sound "improv space punk."