THE LUYAS - Record Release Party for Animator
8:00 PM
19+
$10 in advance | $12 at door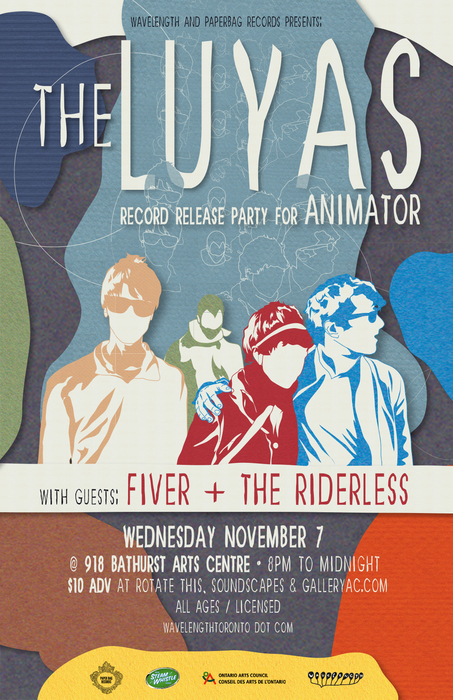 Nov 7

The Garrison

8:00 PM

19+

$10 in advance | $12 at door
Wavelength and Paper Bag Records present:
THE LUYAS
Record Release Party for Animator
Montreal's atmospheric pop quintet fête the release of their new album on PBR!
With guests:
Fiver (Toronto / new solo project from Simone Schmidt of One Hundred Dollars)
The Riderless (London/Toronto's premier post-rock experimentalists)
Wednesday November 7
*** NEW VENUE! THE GARRISON (1197 Dundas St. W.) ***
Tickets previously purchased will still be honoured at the new venue.
EARLY SHOW!
Doors 8pm
Ticket $10 advance at Rotate This, Soundscapes & ONLINE at GalleryAC.com
Or $12 at the door.
*** WE ARE VERY SORRY BUT THIS SHOW IS NOW 19+. Refunds for under-aged ticket-buyers available at the venue box office the night of the show. ***
Fresh off their triumphant appearance at the closing night of Paper Bag Records' 10th anniversary celebrations at the Great Hall, The Luyas return to celebrate the release of their new album, Animator, with an appearance at the long-running Wavelength Music Series. Led by former Toronto resident Jessie Stein, who was a Wavelength regular with her former group the S.S. Cardiacs, The Luyas have ascended to become one of the most accomplished groups in the Montreal indie music scene. With their membership now including violinist Sarah Neufeld of The Arcade Fire, the Luyas are renowned for their lush yet unconventional arrangements, melodic playfulness and haunting atmosphere. With the release of Animator, one of 2012's finest albums, they are set to reach a new stratosphere of excitement and attention. The November 7th show will now take place at Wavelength's spiritual home, The Garrison.
About the artists:
The Luyas
Hailing from Montreal, The Luyas are Pietro Amato, Mathieu Charbonneau, Bucky Wheaton, Sarah Neufeld and Jessie Stein. It is easy to get lost in the Luyas' musical world. Their retro-futurist songs are drenched in echo, and built from guitars, French horn, piles of keyboards, drums and percussion. Singer/guitarist Jessie Stein expands the band's already wide musical vocabulary when she plays the Moodswinger — a 12-string electric zither designed by the Dutch experimental luthier Yuri Landman. The band's brilliant second album, Too Beautiful To Work (Dead Oceans) was embraced by critics and included on the long list for the 2011 Polaris Music Prize. The Luyas are pleased to announce the release of their forthcoming record, Animator, out October 16th, 2012 on Paper Bag Records. Recorded in their hometown of Montreal and created in the midst and reflection of a close friend's sudden death, Animator flows through its own catharsis with a profound depth and richness.
Fiver is a new project led by Toronto's Simone Schmidt. Best known as the lyrical force and voice behind contemporary country unit One Hundred Dollars, Schmidt has garnered respect as much for her live performance as for her work as songwriter. Schmidt sees Fiver as an opening for a freer approach to recording and producing and playing guitar. "I've been sitting on a lot of songs I've written over the past few years because they didn't fit with the country band's sensibilities or collaborative practice. Fiver's a project where I can play, produce and release songs in their best incarnation, regardless of genre, no matter who else plays on them." Fiver's full band live show features The Highest Order of the Blue Sage: Paul Mortimer (lead guitar, One Hundred Dollars), Kyle Porter (bass, One Hundred Dollars) and Simone TB (drums, Tropics).
The Riderless
What began as a fractured and tangential take and disorientation of the delta blues and broken folk noise, The Riderless has now been performing and recording for over 12 years, releasing nine albums (with another slated for the winter of 2012) and exploring improvised music both electric and acoustic. Whereas the recorded material tends to infer a more subdued, pastoral, and often narrative approach, the always electric live performances are heavier excursions into an assemblage of '70s West African funk, drone-based psych, angular Battles style minimalism vs. maximalism and knackered jazz through Aphex Twin filters. This show marks their long-overdue Wavelength debut!
Supported by:
Ontario Arts Council
Steam Whistle Brewing