The Final ALL CAPS! Island Festival: Toronto's ONLY All Ages Music, Art and Camping Festival
Aug 10

Artscape Gibraltar Point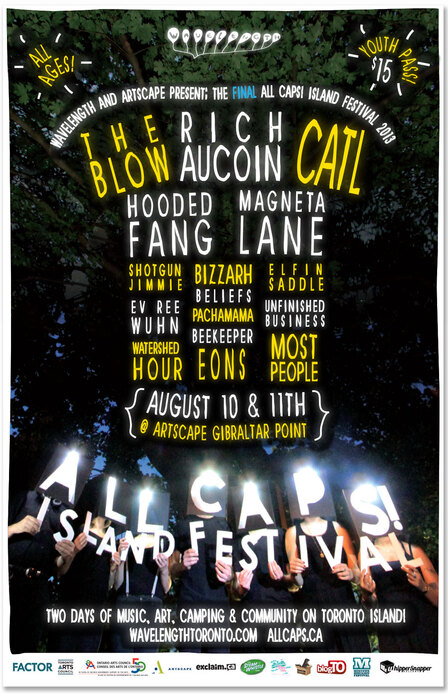 Aug 10

Artscape Gibraltar Point

2:00 PM

All Ages
Wavelength & Artscape present:
The Final ALL CAPS! Island Festival
Toronto's ONLY All Ages Music, Art and Camping Festival
August 10 & 11, 2013
Artscape Gibraltar Point – Toronto Island
"Toronto's perfect staycation weekend" – The Grid
"The little festival that could" – Toronto Star
PLEASE NOTE: Camping passes no longer available, but Two-Day Festival Passes, Youth Passes and Single Day Tickets are STILL AVAILABLE at online at Ticketfly and in-person at Rotate This and Soundscapes!
Yes…. It's true. You didn't read that wrong. 2013 will mark the FINAL edition of Wavelength's ALL CAPS! Island Festival, held annually at Artscape Gibraltar Point since 2009. This August will be your LAST CHANCE to camp out overnight on the Island… one last hurrah to hang out late with your friends, go swimming, have adventures, sit around a bonfire, toss a frizbee, discover some art…. And hear some awesome music in a gorgeous, unforgettable place!
For our final year, we're offering FULL WEEKEND CAMPING, giving you the chance to camp out for two nights (Friday and Saturday) and make it a true getaway within the city.
And in support of our ALL AGES mandate, we're also offering a special $15 Youth Pass for people 13-18.
Here is our musical line-up for 2013:
Saturday August 10:
THE BLOW (Brooklyn NY / Khaela Maricich's electro-pop-meets-performance-art project / set to release their first album in 6 years!) – 9:00
Hooded Fang (Toronto ON / Daps Records' beloved surf-pop-garage massive / touring the world in support of Gravez) – 8:00
biZzarh (Toronto ON / teenage female hip-hop duo / underground buzz + future stars / members of the 88 Days of Fortune collective) – 7:00
Shotgun Jimmie (Brandon MB / classic indie-rock love poetry / Polaris long-list robbery? / one-man-band goes full band on tour!) – 6:00
Beekeeper (Vancouver BC / delightfully spazzy "indie post-pop power trio") – 5:15
ev ree wuhn (Toronto ON / fractured electro soul from the Flying Lotus school) – 4:30
Most People (Toronto ON / pastoral electronic pop built for the Island life / Wavelength 2013 Artist Incubator participant) – 3:45
Unfinished Business (Toronto ON / pre-teen all-girl punk rockouts!) – 3:00
Saturday "Night Owl" Dance Party:
DJ Anni Spadifora (AGO First Thursday, GET IT | GOT IT | GOOD) 10:00
Algorave feat. Sick Lincoln, Turing Heat, more – 11:30 (first-ever Algorave in Toronto / performers will create music through the creation and manipulation of algorithmic processes to get the crowd moving / feat. short sets by d0kt0r0 & frAncIs; Sick Lincoln; Bunny Ruggz; and Turing Heat)
DJ Eytan Tobin (formerly ElektroTank, Eytantobin blends UK garage, pop, techno and hip-hop) – 1:00
Private "Night Owl" ferry will run at 1, 2 & 3 AM – tickets available on site for $8! (Sorry, the Night Owl ferry cannot accommodate bicycles.)
Sunday August 11:
RICH AUCOIN (Halifax NS / ecstatic, participatory one-man dance party! / Winner of the inaugural 2012 Prizm Prize for "Brian Wilson is A.L.I.V.E.") – 9:00
catl. (Toronto ON / the west end's favourite rowdy juke-joint blues-punk duo – co-presented by Mudtown Music & Arts Festival) – 8:00
Beliefs (Toronto ON / Hand Drawn Dracula / heavy droney shoegaze guitar rock) – 7:00
Magneta Lane (Toronto ON / feisty femme-rock trio is back with a new EP, Witchrock) – 6:15
Elfin Saddle (Montreal QC / Constellation Records / experimental world folk trio) – 5:15
Eons (Toronto ON / members of Bruce Peninsula & Poor Pilgrim Island Show founders play quiet songs) – 4:30
Pachamama (Toronto ON / drums and chants from Petra Glynt's Alex MacKenzie + Not the Wind, Not the Flag's Brandon Valdivia) – 3:45
Watershed Hour (Whitby, ON / '90s indie punk played by women born in the '90s – co-presented by Mudtown Music & Arts Festival) – 3:00
Gates open 2:00pm both days.
Visual/Media/Performance/Installation Art by: Basil AlZeri, Patrick Beh, Benjamin Edelberg, Jemma Egan, Mohammad Rezaei, Joleen Toner – Curated & Organized by: Vanessa Rieger & Jessica Vallentin with Whippersnapper Gallery – Follow the 2013 ALL CAPS! Artist Residency Tumbr.

Plus! Camping • Swimming • Bonfires • Island Fun • And more!
Special ALL CAPS! Food Menu served by the Island Cafe!

NEW! Saturday Night Owl Schedule:
Toronto's first-ever "Algorave", DJ Anni Spadifora, Eytantobin & more!
Hang out after-hours on the Island and take our private "Night Owl" ferry home direct from the venue!
Can't make it? Listen at home to a "Nearly Live" Pirate Radio Broadcast with Round Table Radio!
TICKETS/PASSES:
Festival passes
$30.00 – BUY NOW!
Admission both days, not including camping.
(Price includes $2 facility fee.)
Single-day tickets
$19 in advance ($25 at the gate)
BUY SATURDAY TICKETS!
BUY SUNDAY TICKETS!
(Price includes $2 facility fee.)
New! All Ages Youth Pass!
$15 Festival pass available for ages 13-18 – BUY NOW!
(Includes admission both days, no camping, 50% off regular pass price)
Children 12 and under FREE
Camping Passes – no longer available (limited capacity).
If you've bought a camping pass, it does include full festival admission.
Advance ticket outlets
Rotate This (801 Queen St. W.)
Soundscapes (572 College St.)
Online retailer: TicketFly.com
Venue info
Artscape Gibraltar Point is located at 443 Lake Shore Rd. on the main island roadway, halfway between Hanlan's Point and Centre Island. 20 minute walk from either ferry dock. An artist retreat centre, AGP is home to over 30 resident artists.
Ferry info
Toronto Island Ferries run from the city dock at Queens Quay & Bay. Ferry fare is $7 return (sorry, not included in ticket price). Take Hanlan's Point or Centre Island ferry, a lovely 20 minute boat ride.
GATES OPEN 2:00PM EACH DAY.
RAIN OR SHINE.
NO DOGS ALLOWED.
NO OUTSIDE FOOD OR BEVERAGE PERMITTED.
LICENSED CASH BAR & DELICIOUS, VEGAN & VEGGIE-FRIENDLY FOOD WILL BE SERVED!
Do bring: bug spray, sunscreen, umbrella, frizbee, beachwear & towel, water bottle, cash money (no ATM on site).
MAINSTAGE LINE-UP OVER BY 10PM EACH NIGHT.
LAST FERRIES TO CITY:
Hanlan's Point – 11:15 PM
Centre Island & Ward's Island – 11:45 PM
NIGHT OWL FERRY!
Stay late on Saturday night and take our special chartered private ferry home – direct from the venue! Reasonably priced tickets will be available on-site at the festival. Ferries will run at 1AM, 2AM and 3AM.
About ALL CAPS!
The ALL CAPS! Island Festival is a festival of independent music, visual arts and community for ALL AGES presented by Wavelength – Toronto's longest-running non-profit, artist-run concert series – at Artscape Gibraltar Point on Toronto Island. The fifth and FINAL edition of the ALL CAPS! Island Festival will take place August 10 & 11, 2013.
The aim of the ALL CAPS! Island Festival is to take independent music out of its usual context and make it accessible to new audiences – via affordable ticket prices and all-ages admittance. Blessed by beaches and parkland, Toronto Island is an oasis of calm just a 10 minute ferry ride from the city's downtown core. The festival venue, Artscape Gibraltar Point, is a the site of a former public school converted to an artist retreat centre, which creates a gorgeous, intimate environment free of the line-ups and inconvenience of other, larger festivals.
ALL CAPS! is the only music festival at which camping is permitted within the city of Toronto. Camping is an essential part of the full ALL CAPS! experience, and this year we are offering FULL WEEKEND CAMPING, giving campers the opportunity to stay over on Friday night (August 9th) and enjoy two full days and nights on the Island!
ALL CAPS! is the stuff that life-long summer memories are made of – truly an unforgettable experience.
Supported by:
–
–
–
Mudtown Music & Arts Festival