A New Indie-Rock Honour Roll (Pt. I)
Jan 11

The Silver Dollar Room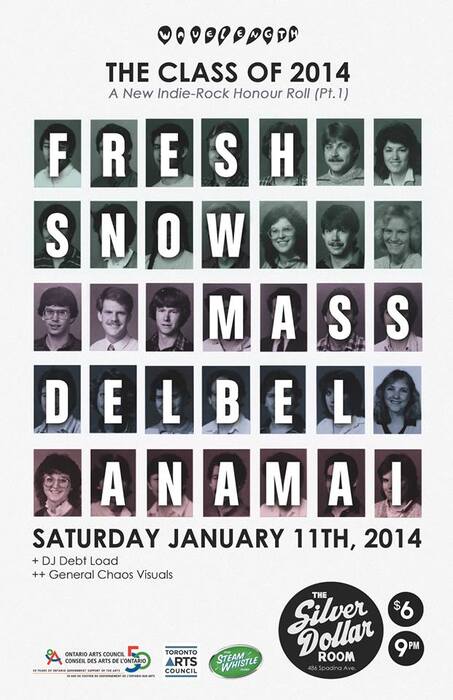 Jan 11

The Silver Dollar Room

9:00 PM

19+
Wavelength & NeXT Present:
The Class of 2014: A New Indie-Rock Honour Roll (Pt. I)
Fresh Snow
http://freshsnowmusic.com
Instrumental kraut-inspired frenzy. Synth-and-guitar-powered spacecraft on perpetual liftoff; set the controls for the heart of Polaris.
MASS
http://masstheband.bandcamp.com/
'90s-inspired guitar assault squad emerge covertly from the underground PATH network. One of AUX's "12 Canadian bands you need to pay attention to."
Del Bel
http://delbelmusic.com
Cracked cinematic post-rock-blues, back from another sojourn, second album in the can. Result: Depression-era lines of A&R guys.
Anamai
http://anamaigrounds.tumblr.com/
Anna Mayberry of HSY gets lost in the forest on Snake Island and discovers a long-hidden power source. Spells and songs documented on Buzz Records, cassette format.
+ DJ Debt Load
++ General Chaos Visuals
Saturday January 11, 2014
@ The Silver Dollar Room, 486 Spadina Ave.
Doors 9pm – 19+
POST-HOLIDAZE PRICING:
JUST $6 AT THE DOOR!!
Poster by Mike Pereira.