THE ALL CAPS! Island Festival 2012 - Toronto's ONLY Music, Art and Camping Festival
Aug 11

Artscape Gilbratar Point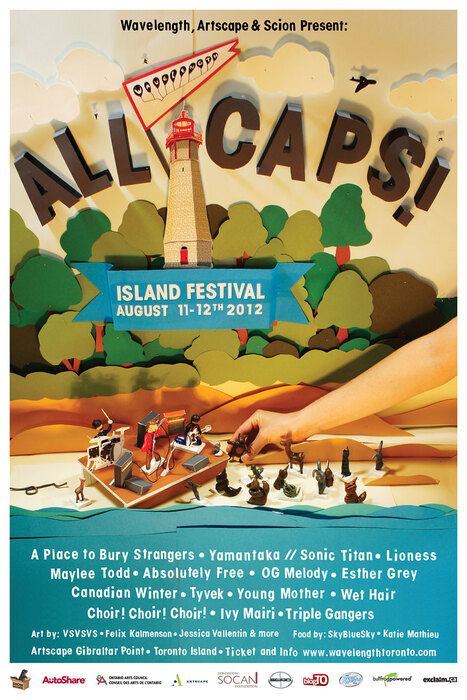 Aug 11

Artscape Gilbratar Point
3:00 PM
All ages
Wavelength and Artscape present:
THE ALL CAPS! Island Festival 2012
Toronto's ONLY Music, Art and Camping Festival
August 11 & 12, 2012
Artscape Gibraltar Point – Toronto Island
Presented in collaboration with Scion Sessions
Wavelength's ALL CAPS! Island Festival returns to Toronto Island for its fourth incredible year! A true getaway within the city, ALL CAPS! features a dynamically diverse line-up of independent music from across the continent, alongside art installations, swimming, bonfires and summertime fun in a gorgeous, intimate environment.
2012 Video Trailer!
To get a taste of the the awesome, you-had-to-be-there vibe at last year's ALL CAPS! Island Festival, check out this brand-new video trailer by Toronto filmmaker
Karim Zouak!
The ALL CAPS! Island Festival 2012 Video Trailer from Wavelength Music on Vimeo.
IndieGogo Campaign!
This year, Wavelength is embarking upon its first crowd-funding campaign via IndieGogo, to help raise funds to cover the costs of this year's expanded edition of ALL CAPS! Those who wish to support the festival can make donations starting at just $10. And IndieGogo supporters also now have the ONLY opportunity to acquire coveted SOLD-OUT CAMPING PASSES in they donate at the $150 level or higher!
We are thrilled to announce our musical line-up for this year!
Saturday August 11:
9:30pm – YAMANTAKA // SONIC TITAN (Montreal "noh-wave" / Japanese prog theatrics / Polaris Prize long-listers!)
8:30pm – Maylee Todd (Toronto / good-time summer funk-pop complete with costume changes / Do Right! Music)
7:40pm – Choir! Choir! Choir! (Toronto / community jukebox choir)
6:50pm – Tyvek (Detroit / 1978-style avant-garage punk)
6:00pm – Wet Hair (Iowa City / Krautrock drone duo)
5:10pm – Esther Grey (Guelph / intimate minor-key folk-pop / one to watch!!)
4:20pm – Triple Gangers (Toronto / solid new synth-pop trio)
Sunday August 12:

NEW SET TIMES! CANADIAN WINTER NOW PLAYING AT 6:00PM AND ABSOLUTELY FREE NOW PLAYING AT 6:50PM.

9:30pm – A PLACE TO BURY STRANGERS (Brooklyn / psychotically loud psych-rock / Dead Oceans & Pitchfork darlings!)
8:30pm – Lioness (Toronto / post-punk sex-rock / New Romantic Music)
7:40pm – OG Melody (Toronto / Isla Craig + Thom Gill = pure love jamz / two to watch!!)
6:50pm – Absolutely Free (Toronto / electro brain-damage rock, ex-DD/MM/YYYY)
6:00pm – Canadian Winter (Hamilton via U.K. / civic-minded hip-hop)
5:10pm – Young Mother (Toronto / post-punk psychedelia)
4:20pm – Ivy Mairi (Toronto / beautiful Island folk)
Plus! Swimming • Bonfires • Island Fun • New Food Vendors • And more!
Visual, Media, Installation & Performance Art:
Curated by Wavelength –
VSVSVS, staging
Felix Kalmenson, installation
Adam Bradley & General Chaos Visuals, installation/projections

Curated by Jessica Vallentin –
Vanessa Rieger, installation
Cameron Lee, beach installation
Lisa Neighbour, beach installation
Heather Nicol
Jessie Currell & Courtney Park, forest sound installation
Adriana Disman, installation
Mary Porter, small-scale forest intervention
Terrearea (Olia Mischenko/Janis Demkiw/Emily Hogg), beach workshop/floating installation
AGP Residents –
Aimee Dawn Robinson, dance performance
Cadine Navarro, breathing performance
Johnny Nawracaj, video loop & installation
Stacey Croucher & Paul Molerio, beach installation
Pat Jeffries, open studio
Melissa Fisher, sculpture and installation
Dana Jo Cooley, mural
Sara A. Tremblay, drawing performance
Food by:
SkyBlueSky Sandwich Company
Katie Mathieu
Workshop:
TSO & Tod Machover's "A Toronto Symphony" – Sunday at 1:30pm, Fireplace Room

Venue info
Artscape Gibraltar Point, 443 Lakeshore Road, Toronto Island
20 minute walk from Hanlan's Point & Centre Island ferry docks
HOW TO BUY TICKETS!
Camping passes – SOLD OUT!!! but still available if you become a "Ward's Island" and "Hanlan's Point" donor on IndieGogo!!
Festival passes – $30 (admission both days, no camping) advance / $35 at the door (sold out at Soundscapes)
Single-day tickets – $17 advance / $20 at the door
Children 12 and under – $10 at the door only
Children 2 and under – FREE
Not including ferry ticket.
Gates open 3:00pm each day
SHOW WILL GO ON RAIN OR SHINE.
Advance ticket outlets
Rotate This (801 Queen St. W.)
Soundscapes (572 College St.)
Online sales now closed.
The ALL CAPS! Island Festival is an annual festival of independent music, visual arts and community for ALL AGES presented by Wavelength – Toronto's longest-running non-profit, artist-run concert series – at Artscape Gibraltar Point on Toronto Island. The fourth edition of the ALL CAPS! Island Festival will take place August 11 &12, 2012.
The aim of the ALL CAPS! Island Festival is to take independent music out of its usual context and make it accessible to new audiences – via affordable ticket prices and all-ages admittance. Blessed by beaches and parkland, Toronto Island is an oasis of calm just a 10 minute ferry ride from the city's downtown core. ALL CAPS! is the only music festival at which camping is permitted within the city of Toronto!
The 2011 Festival was such a huge success, featuring capacity crowds and memorable performances. Last year's coveted camping passes sold out in just one day! The festival venue, Artscape Gibraltar Point, is a the site of a former public school converted to an artist retreat centre, which creates a gorgeous, intimate environment free of the line-ups and inconvenience of other, larger festivals.
–
–
–
–
Wavelength would like to thank the following IndieGogo funders who helped make this festival possible:
Kelly Bergeron, Barbara A. Bunce, Rachel Butler, Aaron Dawson, Dustin Freeman, Adam Gareau, Adam Glover, Elisabeth Kohn, Steph Malek, Claire Nolan, Rachel Nolan, Michael Rancyr, Peter Sherratt, Evan Sue-Ping
Additional thanks to:
Lisa Cristinzo & everyone at AGP, Jonathan Shedzletsky & Scion Sessions, Open Roof Festival, Images Festival, ShowGopher.com – our official sunscreen sponsors!