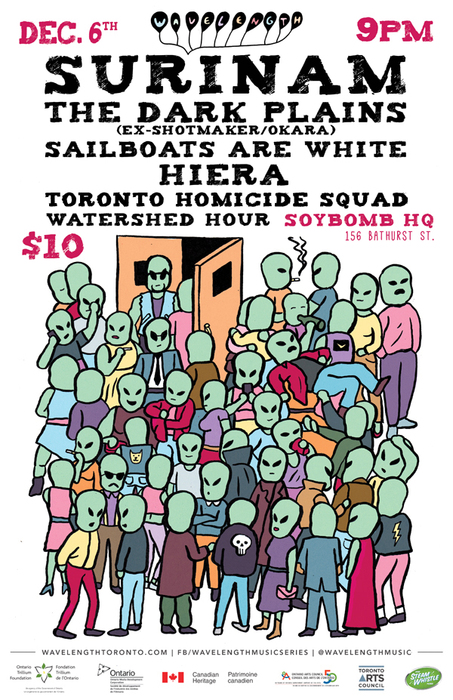 Wavelength presents:
SURINAM
This shit is hot right now, mostly because they're channeling shit that was hot 50 years ago and never really stopped being hot. Hot.
THE DARK PLAINS
(Ex- Shotmaker/Okara)
https://thedarkplains.bandcamp.com/releases
Keep it simple, stupid… And loud… And messy… And fuck you.
SAILBOATS ARE WHITE
http://sailboatsarewhite.bandcamp.com/
Proper purveyors of post-punk since forever ago. Invest in good earplugs; forget to bring them to the show.
HIERA

Ever wondered what a 25lb. guitar sounds like alongside a drummer who clearly loves what he does? Here's a hint: It's huge and impressive.
TORONTO HOMICIDE SQUAD
http://torontohomicidesquad.bandcamp.com/
Actually sounds like a crime scene; squalid and dank… Which is probably how they got local legend Billy Curtiss to guest on one of their tracks.
WATERSHED HOUR
http://watershedhour.bandcamp.com/
Big, bad 'n fuzzy bucketrock… Er, grunge two-piece. Start growing your hair now, for dancing.
+ General Chaos Visuals
Saturday, December 6
@ Soybomb HQ (156 Bathurst St.)
Doors 9pm | $10 at the door
Wavelength #629: Programmed by Dorice Tepley
Band descriptions by Brent Peers
Poster design by Mike Pereira
---
---
UPCOMING SHOWS

COMING UP
The Danforth Music Hall

Saturday, March 25

7:00PM

$27 GA & Balcony

$37 Mezzanine