Starting with Yourself: Self Care & Mental Health in the Arts – Panel Discussion
---
Tuesday, November 26, 2019

Unit 2
163 Sterling Road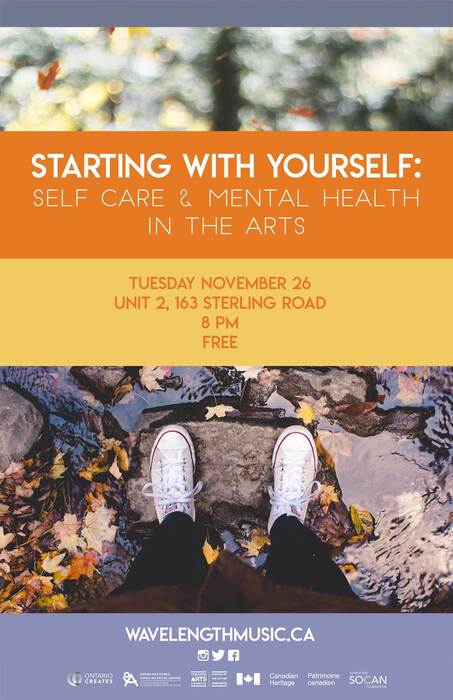 NOTE: CURRENTLY AT CAPACITY – Please go here to add your name to the waiting list – we will do our best to accommodate everyone that is interested! https://www.showclix.com/application/selfcarewaitinglist
Communing with or expressing oneself via the arts, music, poetry, journaling and painting, has often been cited as a panacea for dealing with depression and other mental health issues. But what happens when the person dealing with these issues is an artist themselves?
This panel will be a discussion about self-care and mental health for musicians and other creatives in the DIY/grassroots/underground creative arts space with input and expertise from artists themselves as well those who advocate or work with creatives on these issues.
Topics will include but are not restricted to:
-The relationship between art creation and mental health
-How music and the arts are helping lift the stigma on mental health issues
-Prioritizing self-care within a creative artistic lifestyle
-Coping mechanisms for dealing with mental health issues
-Finding and gaining access to resources and tools to aid in mental health/self-care
Panelists:
Tricia Knowles – Moderator (Wavelength, Calliope Collective).
Sarah Hagerman is a passionate singer/songwriter (a.k.a. Mary Moxxie) and music business professional from Oshawa, Ontario. Since graduating from the Music Business Management program at Durham College, Sarah has been striving to open doors that allow her to be active in supporting the health and wellness of the Canadian music community. Sarah works endlessly to build positive influence on the community surrounding issues such as substance use, inclusivity, and mental health. Her role as the Industry Relations Coordinator at Unison Benevolent Fund helps Sarah work towards her goals by co-ordinating partnerships, communications, and event coordination between Unison and other organizations and events nationally.
Arianne Tong is a comedian and writer for YOHOMO and The Beaverton website. She hosts Group Therapy Podcast on ISO Radio where she interviews other comedians about mental health issues with a therapist present. She also hosts an associative comedy show called Freudian Slip 1st Mondays at Sidesteet Bar where the comics riff off random images from the Internet. She needs one more hour of sleep a night, and yes, she knows she should try meditation. You can find her on instagram @aloha.tong and her tweets @summeroftong.
Dr. Anita Shack BFA, DC is a Toronto based chiropractor with 35 years experience. She uses Chiropractic, Acupuncture, and Craniosacral Therapy to facilitate change and wellness for her patients on multiple levels. She is in private practice and is also one of only a few Chiropractors to work within a hospital in Canada. She sees a variety of artists and performers from all disciplines at the Al and Malka Green Artists' Health Centre at The Toronto Western Hospital. Dr. Shack is a published researcher and international speaker and teacher. A former Modern Dancer and Independent Choreographer, Dr. Shack is sensitive to the specific stresses and sensibilities of artists. She has particular interest in body mind connection and in helping people with self -esteem issues, trauma, anxiety, and depression. In addition, Dr. Shack has studied earth based and spiritual healing paradigms for 25 years. She creatively weaves knowledge from these ancient traditions with evidence-based science into her work.
Final panelist to be announced soon!
FREE / Registration Required: https://www.showclix.com/event/startingwithyourself
Panelists from top left clockwise: Dr. Anita Shack, Arianne Tong, Trisha Knowles (moderator), Sarah Hagerman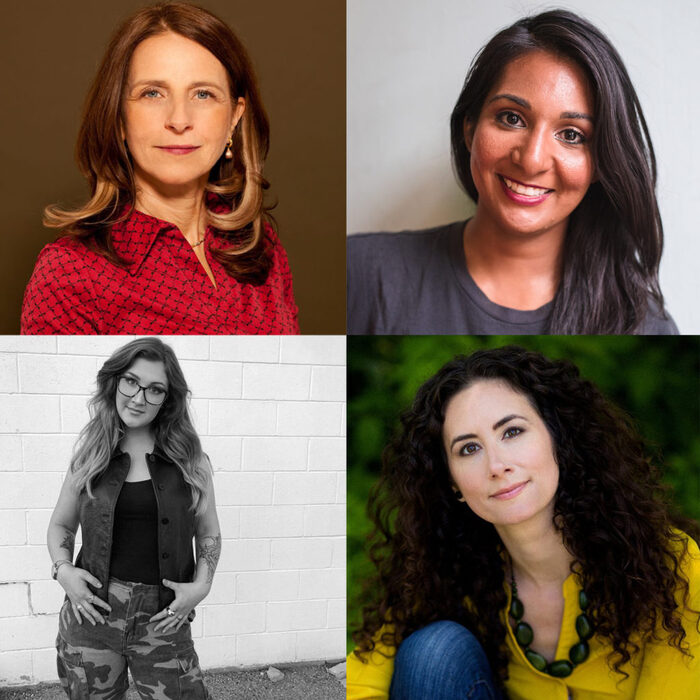 UPDATE!
Listen to the audio from the discussion in the video below
Cover photo by Nadine Shaabana on Unsplash
no images were found
[/types]']
---
---
UPCOMING SHOWS