Jun 22

Double Double Land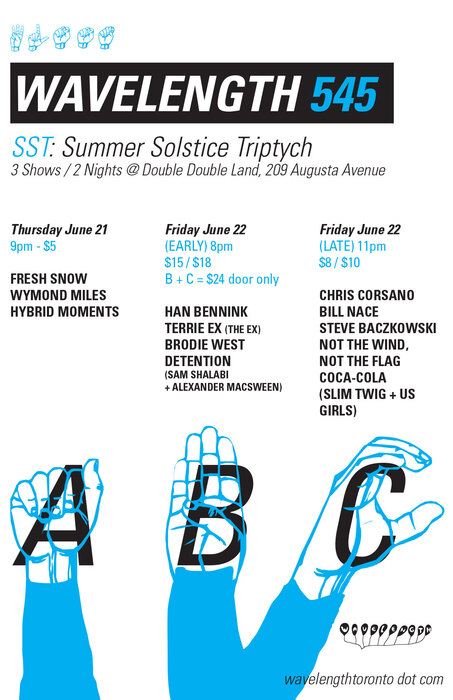 Jun 22

Double Double Land

7:00 PM

All ages
Wavelength 545
SST: The Summer Solstice Triptych
Parts 2 & 3:

HAN BENNINK / TERRIE EX / BRODIE WEST (Amsterdam / Toronto)
Incredible International "Punk Jazz" Trio featuring the Greatest Living Dutch Jazz Drummer with the guitarist from Dutch avant-punks The Ex and Toronto's own
alto sax whiz West!
Plus:
DETENTION (Cairo / Montreal)
Guitarist Sam Shalabi & drummer Alexander MacSween return to Toronto and Wavelength for the first time in over 10 years! Last seen playing alongside Broken Social Scene at WL 69 at Ted's Wrecking Yard…

Friday June 22, 2012
@ Double Double Land, 209 Augusta Avenue
EARLY SHOW!
Doors 7pm, show 8pm
Tickets $15 advance at Rotate This & Soundscapes + online at GalleryAC.com
Or $18 at the door.
Followed by:
LATE SHOW co-presented with Burn Down the Capital!
with:
CHRIS CORSANO / BILL NACE / STEVE BACZKOWSKI
NOT THE WIND, NOT THE FLAG
COCA-COLA (Slim Twig + US Girls)
11pm • $8 adv at RT & SS / $10 door / All Ages
SEE BOTH SHOWS FOR $24! (DOOR ONLY)
About the artists:
Bennink / Ex / West
The trio of Han Bennink, Terrie Ex and Brodie West plays buoyant, raw and unreserved improvised music which defies classification. The chemistry between these three highly individualistic musicians is tangible and powerful. They are touring in support of their recent release Let's Go! on the Netherlands based, Terp record label.
Dutch drummer Han Bennink is well known for his contribution to the development of European improvised music. In 1967, alongside Misha Mengelberg and Willem Breuker, he founded the Instant Composers Pool, aimed to promote and document the activities of a collective that included Peter Brötzmann, Derek Bailey, Tristan Honsinger and Steve Lacy. The organization culminated in the formation of the I.C.P. Orchestra, which is still performing today. A highly versatile drummer, Bennink is also often referred to as one of the most swinging drummers around. He has played with such notable jazz greats as Eric Dolphy, Sonny Rollins, Dexter Gordon, Ben Webster and Wes Montgomery.
Guitarist Terrie Ex is a founding member of legendary Dutch experimental punk/improv band The Ex, with whom he has played for more than 30 years. He also plays in Original Silence with Thurston Moore and Mats Gustafsson, Off/On/Off with Paal Nilssen-Love and Massimo Pupillo and Lean Left with Ken Vandermark.
Alto saxophonist Brodie West is well known for his involvement in Toronto's music scene as a member of Eucalyptus, Drumheller and the Lina Allemano 4. He has been collaborating with Han Bennink for nearly 10 years and tours regularly with The Ex in a special project featuring Ethiopian saxophonist Getatchew Mekuria.
Han Bennink, Terrie Ex and Brodie West gratefully acknowledge the support of the Canada Council for the Arts for making their Canadian tour a possibility.
Detention is the duo of Cairo-based guitarist Sam Shalabi and Montreal-based drummer Alexander MacSween. The duo was a major force in Montreal's bourgeoning improvised music scene in the late '90's, hosting a monthly improv night and playing frequently with out-of-town guests such as Tim Berne and Frank Gratkowski. They appeared at several festivals and opened for artists as diverse as The Chicago Underground Duo and Mike Clark & Charlie Hunter. They also notably performed in Toronto in 2001 at Wavelength Music Series installment #69 at Ted's Wrecking Yard, opening for a then little-known indie-rock collective named Broken Social Scene.
After a nine-year hiatus, Detention became active again in the spring of 2011 and have since played a few gigs and recorded material for a new album. Geographic distance makes it trickier to play together frequently, but the duo are pleased as punch to be back playing their intense variety of improvised music that draws on a wide array of musical forms, Sam's oud playing and Alex's rock background being significant among these.
---
---
UPCOMING SHOWS

COMING UP
The Danforth Music Hall

Saturday, March 25

7:00PM

$27 GA & Balcony

$37 Mezzanine