Part of the Images Festival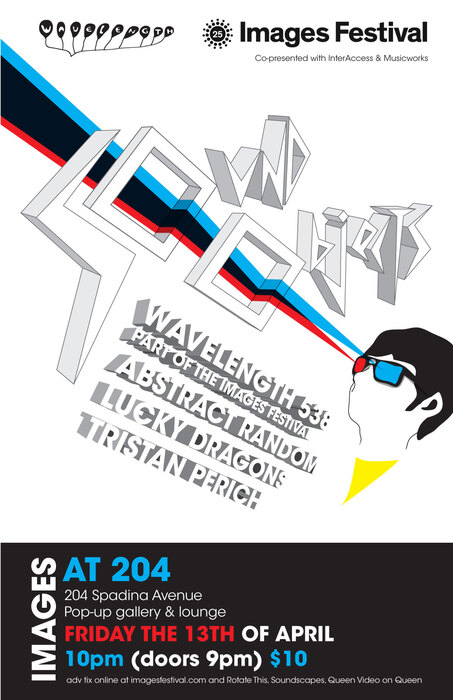 Apr 13

Images at 204

9:00 PM

All Ages
Wavelength #538 – "Sound Objects"
featuring:
ABSTRACT RANDOM
(electro dub-hop partee jamz)
LUCKY DRAGONS
(no new age participatronica)
TRISTAN PERICH
(electro-organic composition)
plus
LESLEY FLANIGAN
(New York – handmade electronica)
Part of the Images Festival
Co-presented with
InterAccess
&
Musicworks
Images at 204
204 Spadina Avenue
** Pop-up gallery & lounge **
Friday the 13th of April
10pm (doors 9pm
$10 (adv tix online at imagesfestival.com and Rotate This, Soundscapes, Queen Video)
To kick off the opening of the Images Festival space at 204 Spadina, Wavelength and Images are teaming up to present a night of sound, light, projections and beats. The show is presented in conjunction with the exhibition Microtonal Array at InterAccess, which explores boundaries between sound, object and image and features works by Tristan Perich and Sarah Rara.
Sarah Rara and Luke Fischbeck have been collaborating as Lucky Dragons since 2000. As a band, they are known for their participatory approach to making music, radically inclusive live shows, and their playfully humanistic use of digital tools. Their live performances feature a tangled pile of cords, electronics and toy instruments often set up in the centre of the floor in a performance space. This mix of instruments works together to form interdependent relationships between the audience and the visual, aural and physical space of the room.
Tristan Perich's compositions have been described by The Wire magazine as "an austere meeting of electronic and organic." Inspired by the aesthetic simplicity of math, physics and code, Perich's work delves into the building blocks of what makes electronic music.
A late addition to the bill, Lesley Flanigan sculpts electronic music by hand, using sounds taken entirely from speaker feedback and her own voice. Performing wooden "speaker feedback instruments", she captures electric rhythms and tones to map a strange sonic atmosphere which includes noise, the warmth of her vocal chords, the action of amplifying, and the use of speakers as something more than vehicles for sound.
Closing the night is Abstract Random, a Toronto-based group composed of Jamilah Malika, LoverSun aka F.Nocera and Ayo Leilani. A rap electro dub mash-up that aims to make feminist politics cool again, Abstract Random's shows include visual projections, face paint and costumes.
Plus! Exhibition opening earlier that evening:
Microtonal Array = "Microtonal Wall" by Tristan Perich + "A RAY ARRAY" by Sarah Rara (Lucky Dragons)
Friday April 13, 6PM @ InterAccess Electronic Media Arts Centre, 9 Ossington Avenue – FREE!

Plus plus! Wavelength in Guelph the next night!

Wavelength will be co-presenting Tristan Perich and Lucky Dragons at Ed Video in Guelph for Kazoo! Fest
Saturday April 14, 8PM @ Ed Video Gallery, 40 Baker St, Guelph, ON – $8 at the door