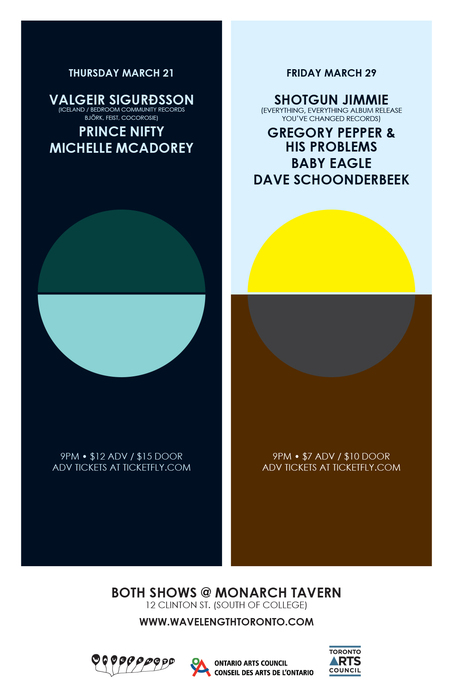 Mar 29

Monarch Tavern

9:00 PM

19+
Wavelength presents:
Shotgun Jimmie
(Everything, Everything album release party / You've Changed Records)
with:
Gregory Pepper & His Problems
Baby Eagle
Dave Schoonderbeek
(Good) Friday March 29 – 9:00 PM
Monarch Tavern
12 Clinton Street (South of College)
Tickets: $7 advance at TicketFly.com
or $10 at the door – 19+
March 29 is Good Friday, but Wavelength Music Series installment #557 really has nothing to do with this most solemn of Christian holidays. In fact, it's time to party, as it's the album release for Everything, Everything, the new recording by long-time Wavelength pal, Shotgun Jimmie!
It's been two years since the release of Transistor Sister, Shotgun Jimmie's 2011 Polaris Prize long-listed long-player, during which the Oshawa-bred, Sackville-based singer-songwriter has been touring the world, both playing his own songs and as part of John K. Samson's band. Everything, Everything (You've Changed Records) is another 16 awesome tracks of solo econo-rock from this post-modern troubadour. Blessed with that archetypally Canadian sense of self-deprecating humour, Shotgun Jimmie is what you could imagine Pavement's Stephen Malkmus would sound like if he grew up playing hockey instead of tennis. Or, as Canadian music icon Joel Plaskett put it: "Shotgun Jimmie is one of my favorite songwriters these days. He sounds like Jonathan Richman jamming with Eric's Trip at Wes Anderson's house."
The rest of the line-up includes the eclectic, fun-loving indie pop of Guelph's Gregory Pepper & His Problems, fellow solo rocker Baby Eagle (a.k.a. former Constantine, You've Changed label boss and repatriated Torontonian Steve Lambke) and a new solo project by Toronto singer/songwriter Dave Schoonderbeek (ex-Another Blue Door, Drunk Woman, The Patients).