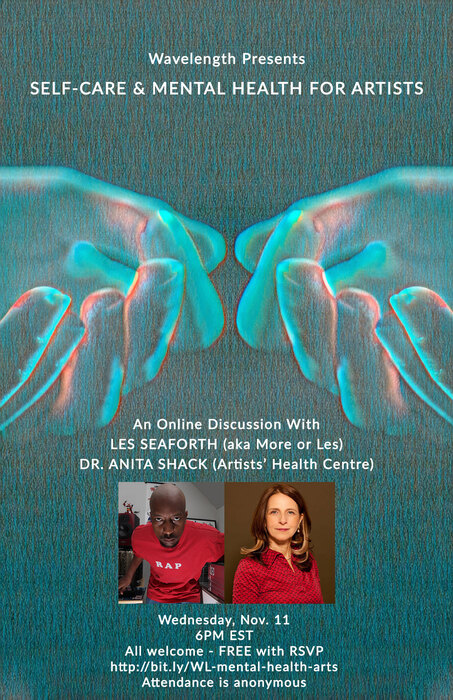 Nov 11

RSVP Free on Zoom

6 PM

Free
Wavelength Presents:
SELF-CARE & MENTAL HEALTH FOR ARTISTS
Online Discussion
Wednesday, Nov. 11
6PM EST
All welcome – FREE with RSVP
RSVP here on Zoom: http://bit.ly/WL-mental-health-arts
*attendance is anonymous
Featuring:
Les Seaforth (aka More Or Les)
Dr. Anita Shack (Al & Malka Green Artists' Health Centre)
Artists were already living precarious lives before COVID-19. The health risks and economic uncertainty wrought by the ongoing pandemic, combined with the US election, racial injustice and climate change, present a toxic brew of risks to our mental health.
Join hip-hop musician Les Seaforth (aka More Or Les), whose upcoming album The Human Condition focuses on mental health, and Dr. Anita Shack from the Al & Malka Green Artists' Health Centre, as they discuss self-care for artists. This open, inclusive online discussion is intended for artists and creative people looking for mental health resources and support.
The talk will also provide more information about the Artists' Health Centre, an integrative outpatient clinic at Toronto Western Hospital, whose team specializes in addressing the specific healthcare needs of artists, providing a holistic approach to health within an evidence-based framework.
About the speakers:
Les Seaforth (aka More Or Les)
Since his first album in 2003, Toronto DJ, producer, and rap veteran More Or Les has released multiple projects to critical acclaim, has years of international live appearances under his belt, and features with notable peeps including Blueprint, Chip-Fu, and UK group The Herbaliser. Also on the tip of collaboration, Les is a member of the Canadian rap collective Backburner. On his rap releases, you can find Les spitting multisyllabic lyrical essays over "true school" beats on topics of a serious to geeky nature – from the sugar slave trade, gun control and smartphone obsession to Klingons, comics and of course, Brunch! His latest album, The Human Condition (out November 13, 2020) is a sensitive, insightful and brilliantly vulnerable look into mental health in the time of COVID, and features guests including Laura Barrett, SlowPitchSound, Fresh Kils, and Jesse Dangerously.
Dr. Anita Shack is a Toronto based chiropractor with 35 years experience. She sees a variety of artists and performers from all disciplines at the Al and Malka Green Artists' Health Centre at The Toronto Western Hospital. A former modern dancer and independent choreographer, Dr. Shack is sensitive to the specific stresses and sensibilities of artists. She has particular interest in body-mind connection and in helping people with self-esteem issues, trauma, anxiety, and depression. Dr. Shack previously appeared at "Starting With Yourself: Self-Care and Mental Health in the Arts," a panel discussion hosted by Wavelength Music in November 2019 at Unit 2 Community Space.