A special bass-heavy event with a special guest from Japan...
Oct 11

Double Double Land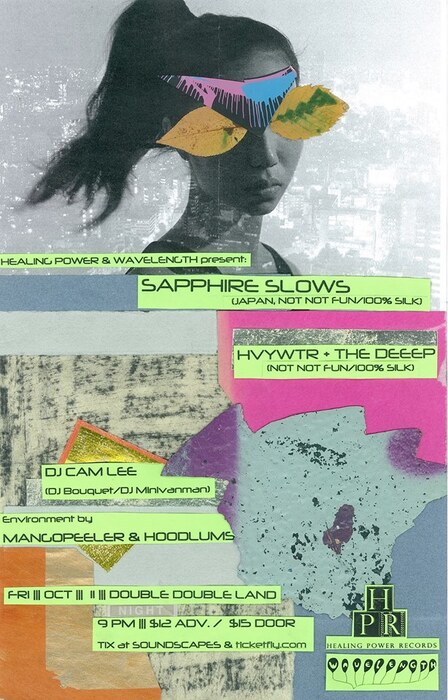 Oct 11

Double Double Land

9:00 PM

19+
Wavelength & Healing Power Co-Present:
A special bass-heavy event with a special guest from Japan…
Sapphire Slows (Tokyo / Not Not Fun / 100% Silk)
Narita >>> YYZ: Transpacific jewel-encrusted jellyfish pop, with traces of house, techno, disco and dub in its DNA. With Allegoria (out in November), Kinuko Hiramatsu may have made the electronic album of the year.
HVYWTR + The Deeep (Toronto / Not Not Fun / 100% Silk)
Isla Craig, Victoria Cheong and Wolfgang Nessel reconnect to recombine strands of trip-hop, dub, soundscapes and vocal beauty. Depth-charge meditations + stoned soul pointillism.
+ DJ Cameron Lee
++ Art by MANGO PEELER
Friday October 11
@ Double Double Land, 209 Augusta Avenue
Doors 9pm
$12 adv at Soundscapes + Ticketfly.ca – BUY TICKETS NOW!
$15 at the door
About the artists:
Sapphire Slows
Sapphire Slows is the alias of Tokyo-based solo artist Kinuko Hiramatsu, set to drop her highly anticipated debut full-length album, Allegoria. Hiramatsu, who started experimenting with electronic music for the first time in 2011, was a member of Tokyo's frenzied club scene and a devoted fan of dance music labels like Kompakt, Warp, 100% Silk and Not Not Fun. Her debut offering, which is being released by NNF, is pulsating with a radiant, glowing energy, as Hiramatsu lyrically explores the tension between personal desires and the anonymity that comes with digital life and existing within the crazed atmosphere of her surroundings in Tokyo. Drawing influence from the sounds of ambient, disco, house and dub, the album is out November 5th on Not Not Fun, and the first single, "Dry Fruits," is streaming now on Gorilla vs. Bear.
MANGO PEELER a.k.a. Jepoy (Jeff) Garcia ~
Jepoy Garcia is a Filipino-Canadian artist and marathon runner. He works
in a diverse range of media including collage, screen printing, installation, fashion, food, projection, readymades, workshops, sound, the internet, plant healing and performative athletics. His process involves the collecting, sorting and patterning of found ephemera. Internationally known as MANGO PEELER, his art, fashion and poster art have also been attracting commissions and collaborations from celebrities such as Drake, R. Kelly, Josephine Foster, Major Lazer, Diplo and Anthony Bourdain.
HVYWTR
HVYWTR is the dynamic duality of Wolfgang Nessel and Victoria Cheong. The recreated project recently arose from the dissolution of buzzed and loved trio The Deeep (which included folk / soul songbender Isla Craig). Circa 2006-2009, Wolf and Vic were working under the name Heavy Water to provide new streams of multi-media-minded trance / beat kaleidoscopia to Toronto audiences. This project is now in transition with new inspirations and feelings: Improvisation, dancehall
and techno come together to create future-world landscapes at turns barren and flourishing, seductive vocal-led struts down red-lit corridors, sonic mirror mazes filled with spinning beams of audio technicolour. Wolfgang and Victoria also run Healing Power Records and DJ together, throwing parties under the MEGA BONUS name.
The Deeep
The Deeep is the abyssal and hypnotic beat/vocal trio of Isla Craig, Wolfgang Nessel and Victoria Cheong. They find themselves mixing and mutating lush vocals, blunted beats and enchanted basslines into an electric drift with room to slink, soar, and slow-dive in magic motion. In 2011 they released Life Light on Not Not Fun and a 12″ on 100% Silk. They are reuniting after an extended hiatus for this special event.
Cameron Lee
Cam Lee aka DJ Bouquet aka DJ Ladybro aka Minivanman aka Courtney Love is a DJ and visual/performance artist. Cam co-organizes the monthly event Feast in the East with Tad Michalak and Neil Rankin. Cam DJ's with Laura McCoy and Sebastian Butt as Body Interface.