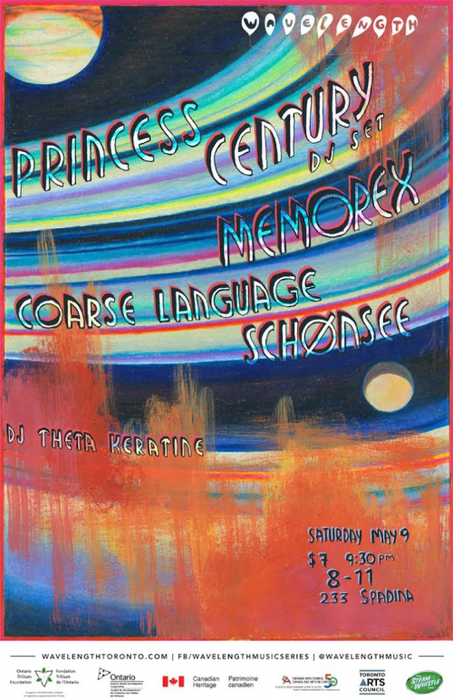 May 9

Monarch Tavern

9.30PM
WAVELENGTH PRESENTS:
PRINCESS CENTURY (DJ Set)
https://soundcloud.com/princesscentury
Come get loose in the Eight-Eleven dungeon as Austra's Maya Postepski cracks the walls with heavy, subterranean cuts. Late night synth / bass creepy cavern dance party action, sure to make you lose it.
MEMOREX
https://mmrx.bandcamp.com/
Dark-synth monoliths Memorex are a frenetic hurtling mass of space-junk from a cyberpunk dimension. Massive arpeggiated hooks, driving drum machines and cutting dual vocals. Electronic post-punk dance attack for a doomed generation.
COARSE LANGUAGE
https://coarselanguage.bandcamp.com
Sinister industrial edged electronic austerity from one Jon Schouten (Wrong Hole, Teenanger). Spazzed-out digital malevolence and minimal synth paranoia lock into danceable hell-house beats.
SCHØNSEE
http://mechanicalforestsound.blogspot.ca/2015/01/recording-schnsee.html
New ambient, shadowy offerings from Ami Spears (Ostrich Tuning) and Scarlett Rose. Space out on the burning, woozy drift and be mesmerized / hypnotized. Remember love, forget your knotty chest, gaze into endlessness.
+ DJ Theta Keratine
++ Laser and mirror environs by Memorex
Saturday, May 9
9:30pm – $7
NEW VENUE: Monarch Tavern, 12 Clinton Street
Main Floor – New Stage & P.A.!