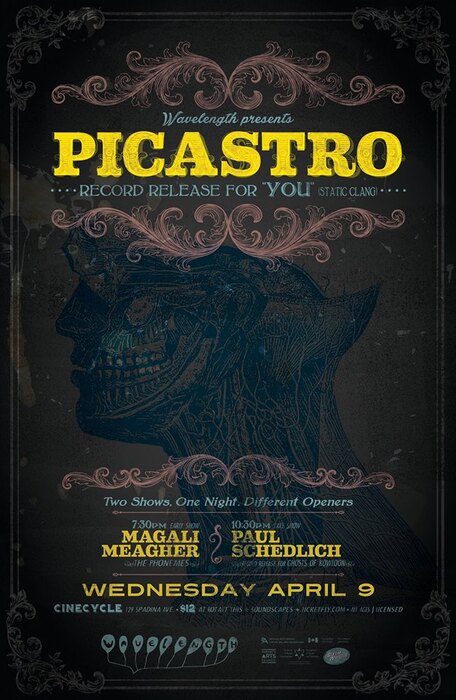 Apr 9

CineCycle

7:30 PM

19+
Wavelength Presents:
Record Release for "You" (Static Clang)
Shadowy beauty crawled from a dark and bent history in the Toronto underground. Underground. Soily plastics and old toy trucks found in the yellow grass. Gorgeous clunks and a voice like hibiscus-scented floss. Angular hammering, hemorrhaging the post-classical membrane.
NOW ONE SHOW WITH BOTH OPENERS ON THE SAME BILL!
(Record Release for "Ghosts of Kowloon")
http://soundcloud.com/paul-schedlich
Ounces of Galaxie 500 dribbled over waltzing post-rock thoughts.
Jangledly emotive, a confident voice. Calloused '90s introspection with
mathematic musical expenditure. Accessible experimentation within the pop paradigm.
MAGALI MEAGHER (The Phonemes)
http://twitter.com/thephonemes
A shy Ragnarok of the heart, emanating from the original Torontopia. Hearth-folk for the timid and brave. A burlap sheet and a high thread-count linen. The nylon plucks are enough to weep.
DOORS 7:30PM. Set Times: Magali Meagher 8:30, Paul Schedlich 9:30, Picastro 10:30.
+ Films
++ General Chaos Visuals
+++ $5 Steam Whistle
++++ Popcorn!
Seated show. Now even more limited capacity!!
Wednesday April 9
129 Spadina Ave., down the laneway
Doors 7:30 PM
Advance tickets (highly recommended!)
$12 at Rotate This + Soundscapes + Ticketfly.com
ALL AGES / Licensed
Wavelength #593: Programmed by Jonny Dovercourt, Liz Hysen and Martin Heath; fabulous band descriptions by Adam Bradley. Poster by JJPare.
About Picastro: You
Wavelength is proud to present a special record release for event for Picastro, one of Toronto's longest-running independent bands. One of only a handful of groups that have been active since our concert series launched 14 years ago, Picastro have built up a devoted worldwide cult following for their beautifully dark and sombre chamber-rock.
Founded in 1998 by singer/songwriter, guitarist and violinist Liz Hysen, the group has gone through several metamorphoses over its 15 year history, and its current incarnation sees Hysen joined by cellist Nick Storring (also a renowned composer) and percussionist Brandon Valdivia (Not The Wind, Not The Flag).
On March 11th, Picastro will release their bold fifth album, You, their first for Static Clang Records. The album was recorded by Jeff McMurrich (Basia Bulat, Owen Pallett, Tindersticks) and mixed/produce by Sandro Perri and Nick Storring and includes guest appearances from a who's-who of indie music
royalty, including Evan Clarke (Rockets Red Glare), Tony Dekker (Great Lake Swimmers), Alex Lukashevsky (Deep Dark United) and Colleen Kinsella and Caleb Mulkerin (Cerberus Shoal).
This special Wavelength-presented record release event will take place April 9 at legendary art space Cinecycle, with opening sets consisting of a solo performance by singer/songwriter Magali Meagher (of Blocks Recording Club trio The Phonemes) and a full band set by post-punk dream-pop artist Paul Schedlich (formerly of late '90s/early '00s Toronto bands The Great Forgetting and Drop Forge), who also celebrates the release of his new album, Ghosts of Kowloon.
+ General Chaos Visuals