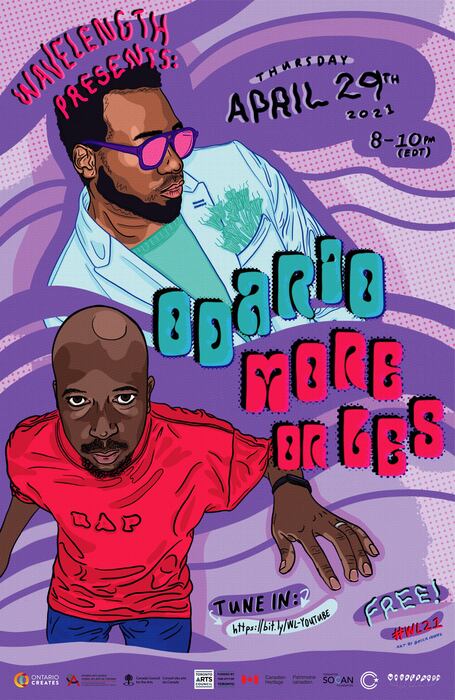 Apr 29

YouTube

All Ages

FREE
Wavelength Monthly Music Series: April 2021
ODARIO + MORE OR LES
Thursday April 29, 2021
8-10PM EDT
ALL AGES // FREE
Tune in: http://bit.ly/WL-YOUTUBE
Spring into action for April's Wavelength show… A virtual double-bill of classic hip-hop and soul with Toronto's own Odario and More Or Les! Both sets can be streamed live on the Wavelength YouTube channel.
Odario is a storyteller, a hip-hop junkie and a lover of many musical soundscapes. He is embedded in the beat and submerged in the bass. His upcoming solo project will express all of these qualities; tackling the many sides of "beat poetry". Odario is known for his work in Grand Analog (as songwriter and frontman). His distinctive voice and insightful lyrics have been part of the Grand Analog sound since their debut album, Calligraffiti, in 2007. As a performer and personality, Odario wears many hats and describes himself as a raconteur, an actor and a DJ. He's currently hosting CBC Music's afterdark program. As a founding member of Grand Analog, he has co-written the songs for three albums, three EPs and several singles; generated over 65 syncs and been nominated for Sync Artist or Songwriter of the Year at the Canadian Sync Awards. Odario has also been featured on a number of other artist's tracks including A Tribe Called Red single Ba Na Na with Haviah Mighty. In 2020, he released his debut solo single, Low Light (In This Space); opened for Bedouin Soundclash on the band's cross-Canada tour and dropped his solo EP, Good Morning Hunter.
More Or Les: Since his first album in 2003, Toronto DJ, producer, and rap veteran More Or Les has released multiple projects to critical acclaim, has years of international live appearances under his belt, and features with notable peeps including Blueprint, Chip-Fu, and UK group The Herbaliser. Also on the tip of collaboration, Les is a member of the Canadian rap collective Backburner. On his rap releases, you can find Les spitting multisyllabic lyrical essays over "true school" beats on topics of a serious to geeky nature – from the sugar slave trade, gun control and smartphone obsession to Klingons, comics and of course, Brunch! His latest album, The Human Condition (out November 13, 2020) is a sensitive, insightful and brilliantly vulnerable look into mental health in the time of COVID, and features guests including Laura Barrett, SlowPitchSound, Fresh Kils, and Jesse Dangerously.
Poster Design by Becca Howes