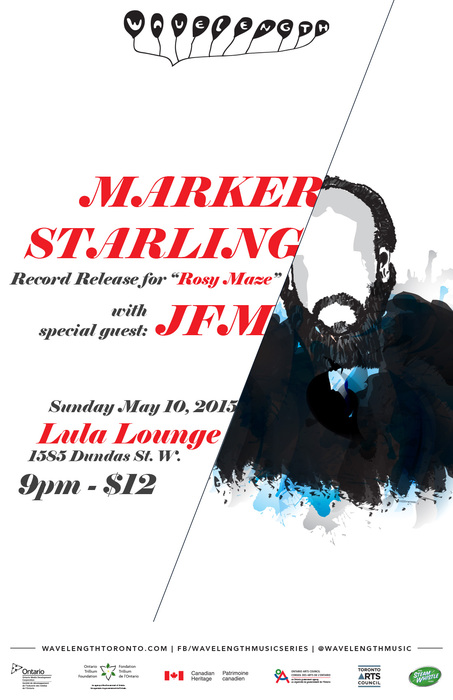 May 10

Lula Lounge

9.30pm
Wavelength Presents:
MARKER STARLING (formerly MANTLER)
Record Release for "Rosy Maze" (Toronto, Tin Angel Records)
** Full Band Performance! **
with special guest: JFM (Halifax, Pleasence Records)
Sunday May 10, 2015
Lula Lounge, 1585 Dundas St. W.
9:30pm – $12 advance, $15 door
Advance tickets at Rotate This, Soundscapes & TicketFly.com
Toronto – Rosy Maze Record Release
Toronto soul-pop artist Marker Starling (formerly Mantler) celebrates the release of his new album Rosy Maze (Tin Angel Records, UK) with a full band concert May 10 at Lula Lounge! One of the city's most beloved artists, a "songwriter's songwriter," keyboardist/vocalist Chris A. Cummings will be backed up by a large, nine-piece band drawing from the Toronto music community's deep talent pool. Special guest, Halifax-based solo electronic artist JFM (aka Jesse Frank Matthews) will open the evening.
Marker Starling
After recording and performing for many years under the name of Mantler, Toronto's Chris A. Cummings changed his band name to Marker Starling in 2012. A solo performer for much of his career, Cummings was frequently seen playing Melancholy Party Jams on a Wurlitzer electric piano, accompanied by a Rhythm Ace drum machine. More recently, he has been supported by a band consisting of Jay Anderson (drums) and Matt McLaren (bass), both of whom play a prominent role in Marker Starling's new album.
Rosy Maze will be released by UK label Tin Angel Records worldwide in Spring 2015. After a longtime association with Germany's Tomlab label, who released the second, third and fourth Mantler records (Sadisfaction, Landau and Monody), Cummings began working with Tin Angel in 2010, when they co-released Monody in the UK and Ireland. Since then he has toured frequently to the UK, Ireland, France, Germany and Russia. In 2014, he collaborated with the German band Von Spar, contributing vocals and lyrics to four songs on their album Street Life.
https://www.facebook.com/MarkerStarling
http://markerstarling.tumblr.com/
https://twitter.com/markerstarling
http://www.tinangelrecords.co.uk/marker/
http://www.youtube.com/user/mantytunes/
http://tinangelrecords.bandcamp.com/album/i-guarantee-you-a-good-time-single
http://tinangelrecords.bandcamp.com/album/rosy-maze
JFM
There is no fixed address, the door is open and the contents of the room seem to have some sense of place but it's hard to say. Fresh cut flowers share a table with a bowl of bruised fruit, loose change and bent keys. The light pouring in changes every few minutes, so the shadows are free to roam around this shifting concept of space. You can tell that someone lives here, out of just one suitcase. Inside that suitcase, found sounds are collected and stitched together and a hand made greeting card signed: JFM.
http://jfm3.bandcamp.com/
https://www.facebook.com/shadowed
https://www.youtube.com/watch?v=06S16uamFzk
https://soundcloud.com/j-fm-1