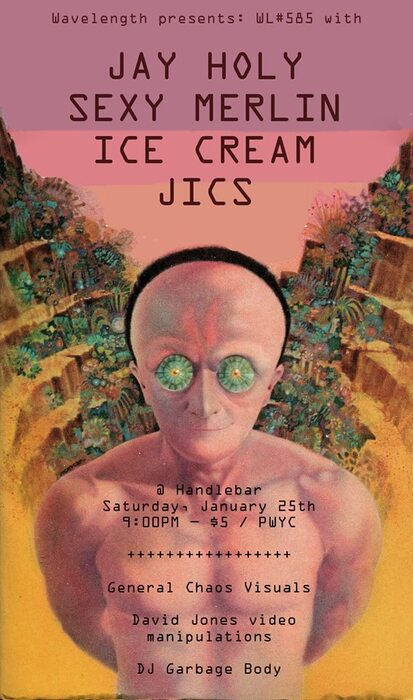 Jan 25

Handlebar

9:00 PM

19+
Wavelength Presents:
.:☵ WL#585 ☵:.
Saturday, January 25th
Featuring:
JAY HOLY
http://jayholy.bandcamp.com/album/skeletor-ep
In the house of Jon Maus, Jay Holy kicks off their shoes and raids the liquor cabinet. Wake-dream of neon purple parallelograms in a grid-void and invite the synth-punk gremlins into your bloodstream.
SEXY MERLIN
http://sexymerlin.bandcamp.com
Skynet's newest design, model SM118-D. An eight-armed Arthur Russell replicant with time-acceleration functionality and hypnosis-inducing sonic weaponry. Go with him if you want to live. He'll set you free.
ICE CREAM
https://soundcloud.com/icecreamband/science-ice-cream
They know what you want. You want your favourite flavour. Rum soft-serve poured from a huge industrial pipe in the ceiling onto your steaming dance-body. Descend the stairs of bass, slinky synth and post-punk skronk. (Members of Huckleberry Friends / Blonde Elvis)
MAN MADE HILL
http://orangemilkrecords.bandcamp.com/album/intercourses
Everyone's favourite squiggly marsh Martian joins the fray. Iridescent spelunk-funk braves your caves and echoes to your molten core. Explore the dance floor and raise your hands like you just don't know what's going on.
Please note: JICS are unfortunately no longer able to perform tonight.
+ General Chaos Visuals
++ DJ GARBAGE BODY))))))))))
http:// www.texturemagazine.ca/ wordpress/?p=492
+++ David Jones provides the analog video manipulations
http://vimeo.com/ gardenofentropicdelight
@ Handlebar, 159 Augusta Ave.
9PM — $5 / PWYC
Poster by Adam Bradley.