Apr 20

Goethe-Institut Toronto
100 University Ave, Toronto, ON M5J 1V6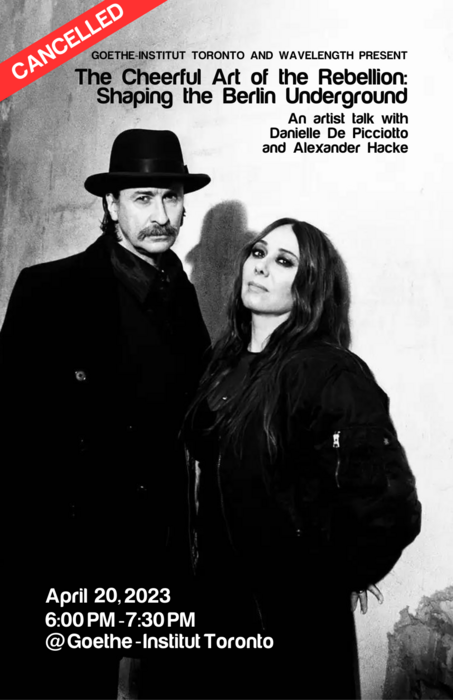 Apr 20

Goethe-Institut Toronto

100 University Ave, Toronto, ON M5J 1V6

6pm

All Ages

Free
🚨 CANCELLED! 🚨
Unfortunately, due to circumstances beyond their control, hackedepicciotto have postponed April's Canadian tour, including their Toronto show at 918 Bathurst on April 14 (postponed to July 28) and artist talk at the Goethe-Institut on April 20 (cancelled).
We apologize for any inconvenience and thank everyone for their understanding.
———
PRESENTED BY THE GOETHE-INSTITUT TORONTO
WITH WAVELENGTH
Culture talks @ Goethe
Two titans of the global underground music and art scene (and partners in life and art), Danielle de Piciotto and Alexander Hacke, sit together in an intimate fireside chat at the Goethe-Institut Toronto and – based on their respective books "Noise" and "The Cheerful Art of Rebellion"– chat about art, rebellion, collaboration and a brief history of the Berlin underground they co-founded and are still driving.
"With 'The Cheerful Art of Rebellion' Danielle de Picciotto has processed her early Berlin years from late 1980 to 1995 with her 2nd graphic novel. She succeeds wonderfully in interweaving her own story with the larger social, political and cultural events. Danielle de Picciotto takes us to the coal cellars of Berlin Kreuzberg, to the first Love Parade on the Ku'damm and to afterhours at the Kumpelnest 3000, and introduces us to her friends, the protagonists of the cheerful art of rebellion, artists like Gudrun Gut, Käthe Kruse, Françoise Cactus, Dr. Motte, Westbam and many more." — Kaput Mag
Danielle de Picciotto is an American-born interdisciplinary artist who has been living in Berlin since 1987. She has performed and exhibited with Crime & The City Solution, The Space Cowboys and her husband Alexander Hacke. Danielle has released two books, writes for culture magazines and is known for her intricate spoken word performances. She plays violin, hurdy gurdy and autoharp, but has also always been part of the electronic music scene.
Alexander Hacke was born in Berlin Neukölln. He joined Einstürzende Neubauten in 1980 at the age of 14 (they are currently recording their next album), then toured with Italian pop icon Gianna Nannini, improvised with Can drummer Jaki Liebezeit for Japanese avantgarde-star Phew and produced records for the likes of Miranda Sex Garden, French anarchist songwriter Fred Alpi or Berlin post-punk characters Mutter. He was a protagonist in Fatih Akin's film Crossing the Bridge – The Sound of Istanbul, contributed music for the director's award-winning feature Head On and wrote the score for Akin's The Cut. Noise: Distorted Memories is the autobiography of an exceptional musician and contemporary witness of the Berlin underground music, art and film scene.