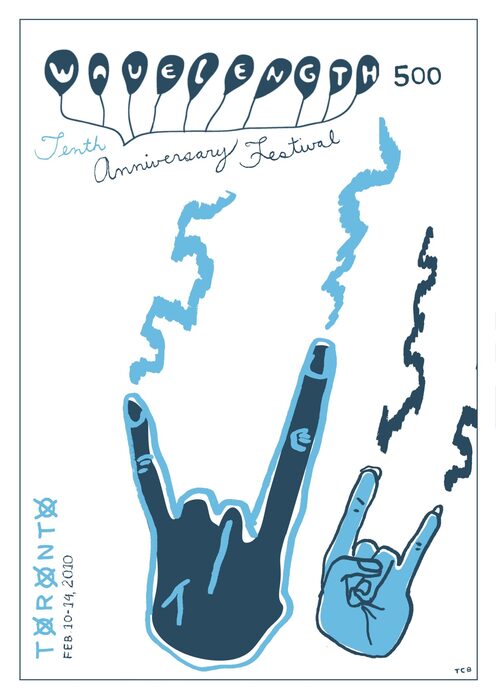 WL 500
February 10–14, 2010
---
Wavelength Music Arts Projects is Pleased to Announce:
WAVELENGTH 500
10th Anniversary Festival
February 10-14, 2010
Wednesday, Feb. 10th
@ The Music Gallery, 197 John St.
Bruce Peninsula
Evening Hymns
Pony Da Look
Deep Dark United
Canaille
7pm • $12 adv
Thursday, Feb. 11th
@ Steam Whistle Brewery, 255 Bremner St.
Holy Fuck
The Russian Futurists
Fembots
Diamond Rings
Professor Fingers
8pm • $18 adv
Friday, Feb. 12th
@ Sneaky Dee's, 431 College St.
From Fiction (reunion)
The Bicycles (reunion)
Laura Barrett
Magic Cheezies
Young Mother
9pm • $12 adv
Saturday, Feb. 13th
@ SPK / Polish Combatants Hall, 206 Beverley St.
The Constantines
Rockets Red Glare (reunion)
Donne Roberts
Picastro
Danger Bay
8pm • $20 adv
Sunday, Feb. 14th
@ The Garrison, 1197 Dundas St. W.
Kids On TV
The Barcelona Pavilion (original line-up reunion)
Mean Red Spiders
Neck (reunion)
Boars
9pm • PWYC (door only)
FESTIVAL PASS $50 — GET INTO EVERYTHING!!
Buy passes and single-night advance tickets (except for Feb. 14, door only) at:
Soundscapes, 572 College St.
Rotate This, 801 Queen St. W.
GalleryAC.com
ON SALE THURSDAY, JAN. 7TH.
Wavelength 500 is supported by Toronto Arts Council, Ontario Arts Council, Soundscapes Music, Eye Weekly and Steam Whistle Brewery.
More info: www.wavelengthtoronto.com
Wavelength 500 / 10th Anniversary Festival — All About It!
February 2010 marks the 10th Anniversary and 500th show of the Wavelength music series, "the weekly concert series that changed Toronto indie rock" (Stuart Berman, Eye Weekly). Founded a decade ago by a loose collective of independent musicians who wanted to create a regular meeting place to expose local artists to new audiences and generate more excitement about Toronto's then-overlooked independent music scene. With a mandate to encourage cross-pollination by putting acts from different genres onto the same bill, to nurture a sense of community and co-operation between artists, and to make indie music accessible through a Pay What You Can admission price and a print zine that interviewed the bands playing the series, Wavelength launched on Sunday Feb. 13, 2000 at now-defunct College street club Ted's Wrecking Yard, with a show by Mean Red Spiders and Neck, two pioneers of the '90s T.O. indie sound that were also affiliated with the "Wavelength Crew."
Starting out with such idealistic goals, it was hard not to be cynical about the venture's prospects, but Wavelength proved the skeptics wrong and went on to become arguably Toronto's most successful and influential concert series. It was at ground zero of the Canadian indie music explosion of the past decade, with many of this country's successful exports playing key shows early on in their career on the Wavelength show, years before they would go on to fill halls around the world. Wavelength's coups include presenting debut shows by Broken Social Scene and Holy Fuck, breakout performances by The Constantines and The Hidden Cameras, the farewell Toronto show by Peaches, surprise appearances by Feist, and early sets by Polaris Prize winners Final Fantasy, Fucked Up and Dan Snaith a.k.a. Caribou. Among the other bands that played Wavelength as newcomers to the Toronto scene are Junior Boys, Tokyo Police Club, Born Ruffians, Woodhands, The Rural Alberta Advantage and Crystal Castles. Surviving three venue moves — most recently to its new home, The Garrison, this past October, 2009 — and the transition of the print zine into the online realm, Wavelength continues to provide an important platform for new artists to find their voice in the Toronto music community.
In Feb. 2001, Wavelength began to celebrate its own birthday with an annual tradition of Anniversary Festivals that also mark the series' 50 shows per year. These ambitious, multi-night events take the Wavelength spirit into different venues around the city and feature the most exciting acts of the past year of Wavelength programming. Unlike larger music festivals, Wavelength Anniversaries are also curated so that voracious music lovers can see everything if they wish.
For the 10th Anniversary milestone, Wavelength 500 expands to a record five nights at five different venues, with five bands playing each night. With 10 years, 500 shows and over 1100 bands to look back upon, Wavelength 500 is not just a best-of-the-year but also a best-of-the-decade fest. With a 100% homegrown line-up, Wavelength 500 is a living, breathing time capsule of Toronto indie rock in the 2000's.
The line-up includes act that have gone on to become international touring acts — Holy Fuck and The Constantines, who also recently celebrated their own 10th Anniversary; long-running Wavelength veterans (some of who's existence predates the series) — Pony da Look, Deep Dark United, The Russian Futurists, Fembots, Picastro, Mean Red Spiders; and a special slate of Wavelength-curated reunions by dearly departed Toronto bands — math-rock icons Rockets Red Glare and From Fiction, electro-punk theorists The Barcelona Pavilion, cuddly indie-popsters The Bicycles and lo-fi speed-pop pioneers Neck. Wavelength 500 isn't entirely a nostalgia trip, though — keeping things contemporary and forward-looking, it will also feature some of our favourite new bands of 2009 — Evening Hymns, Canaille, Diamond Rings, Professor Fingers, Magic Cheezies, Young Mother, Danger Bay and Boars, as well as 2005-08 breakout stars Bruce Peninsula, Laura Barrett, Donne Roberts, and Kids on TV.
End of an Era?
What is also significant about Wavelength 500 is that it marks the bittersweet end of the weekly Sunday Wavelength series. With Wavelength having more success with larger special events such as the Anniversary Festivals, annual collaborations with the Images Festival, outdoor summer shows under the ALL CAPS! banner and more ambitious shows with touring groups such as Getatchew Mekuria & The Ex, it feels like the right time to wrap up the series — as we know it. The end of Sundays does NOT mark the end of Wavelength, though. The Wavelength crew plans to relaunch the series in a new monthly format in the spring, and expanding their annual series of larger events.
Wavelength 500 is programmed by Jonny Dovercourt, Ryan McLaren, Kevin Parnell and Doc Pickles.
PAST FESTIVALS