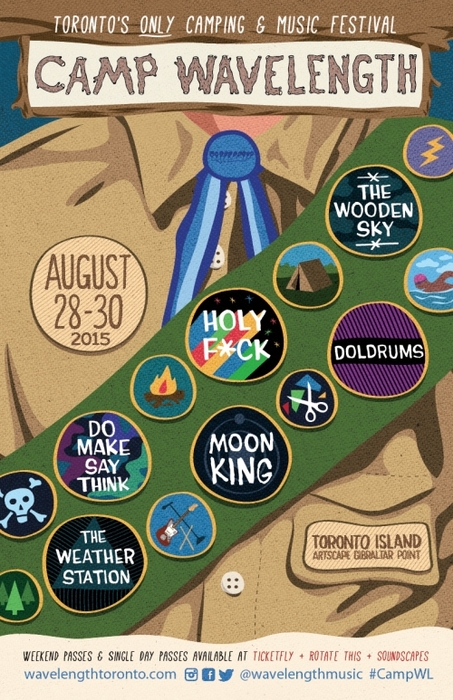 Camp Wavelength 2015
August 28–30, 2015
---
The inaugural Camp Wavelength took place at Artscape Gibraltar Point on Toronto Island the final weekend of August, 2015. Our first edition of #CampWL was blessed with amazing weather all weekend and good vibes all around!
Named one of the best music festivals of 2015 by:
BlogTO: "the perfect backdrop for presenting grassroots events that celebrate community"
ChartAttack: "an ambience as important and fascinating as its musical acts"
NOW Magazine: "a DIY commitment to the best"
Torontoist: "a game-changer" (2015 "Hero" Nomination)
Camp Wavelength 2015 featured art installations, performances, and activities by:
Absolutely Free & Petrina Ng: On The Beach
Morning Jog with Members of The Wooden Sky
Gambletron & Johnny Forever: Radio Flotilla
Open Fortress
Roxanne Ignatius: You Are Here
Caterwaul Theatre: Puppetree
Chris MaGee: Phantasm Grove
SubZeroArts: Cubeism
Andrew Rutherdale & Matthew Jarvis Wall: Aeolian Current
Aubyn O'Grady: In Synch
Ian Langohr: Costume Puzzles
Posi Vibez: Orbz
Static Zine: Fort Zine
NIGHTLIFEGUARD
Aaron Dawson (projections)
General Chaos Visuals
Zoo Owl: Environmental Visuals 
Taking place at the location of the beloved ALL CAPS! Island Festival, which Wavelength co-presented from 2009-13, the inaugural edition of Camp Wavelength was dedicated to ALL CAPS! founder, Ryan McLaren, and his inspirational fight against cancer.
PAST FESTIVALS