May 30

Artscape Gibraltar Point
Toronto Island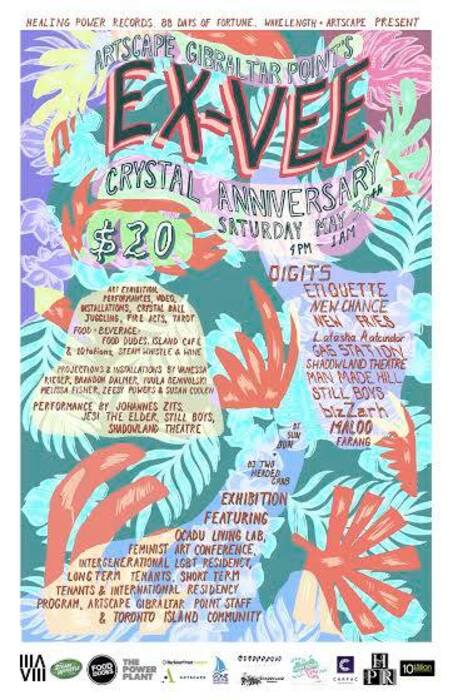 May 30

Artscape Gibraltar Point

Toronto Island

4:00 PM

All Ages
Artscape Gibraltar Point, along with Healing Power Records, 88 Days Of Fortune and Wavelength present… (past/present/future)
EXVEE… An evening of Music, Performances, Installations, Projections, An art exhibition, Fire & Crystal and Food & Beverage ON TORONTO ISLAND!!!
EXVEE (XV) (15) marks the 15 year anniversary of Toronto's nebulous art hub, Artscape Gibraltar Point.
Summon summer with us and come see…
MUSIC
DIGITS https://soundcloud.com/digits
ETIQUETTE https://soundcloud.com/handdrawndracula
BIZZARH https://soundcloud.com/bizzarh
NEW FRIES https://newfries.bandcamp.com/
NEW CHANCE https://soundcloud.com/new-chance
MALOO (Maylee Todd) http://www.mayleetodd.com/
MAN MADE HILL https://manmadehill.bandcamp.com/
STILL BOYS https://soundcloud.com/still-boys
THE GAS STATION http://gasstationrecordings.blogspot.ca/
FARANG https://falang.bandcamp.com/
L.ATASHA A.ICINDOR aka L.A. http://www.latashaalcindor.com/
DJ Sunsun
DJ Two Headed Crab
PROJECTIONS by Vanessa Rieger & Brandon Dalmer
INSTALLATIONS by Melissa Fisher, Yuula Benivolski, Zeesy Powers, Shoshonah MacKay & Susan Coolen
PERFORMANCES by Johannes Zits, Jesi the Elder, Still Boys & Shadowland Theatre
EXHIBITION featuring over 50 artists from OCAD U, Feminist Art Conference, The Intergenerational LGBT Residency, AGP Long Term Tenants, AGP Short Term Residency Tenants, AGP International Residency Program, AGP staff & Toronto Island Community (complete list of participating artist list to be announced shortly)
FOOD & BEV Food Dudes, Island Café, 10tations, Steam Whistle, Wine & special drink
SATURDAY MAY 30 @ 4pm
$20 TICKETS AT: https://www.ticketfly.com/purchase/event/848927
ALL PROCEEDS from the event support Artscape Gibraltar Point. Capacity is limited and tickets will only be sold in advance of the event, no door entry.
SPONSORS: Steam Whistle, Food Dudes, Island Café, Power Plant, CARFAC, 10tations, Gone Sailing Adventures, Harbourfront Centre