March 18

The Baby G
1608 Dundas St. W.
Doors 9pm
19+
$8 advance | $10 door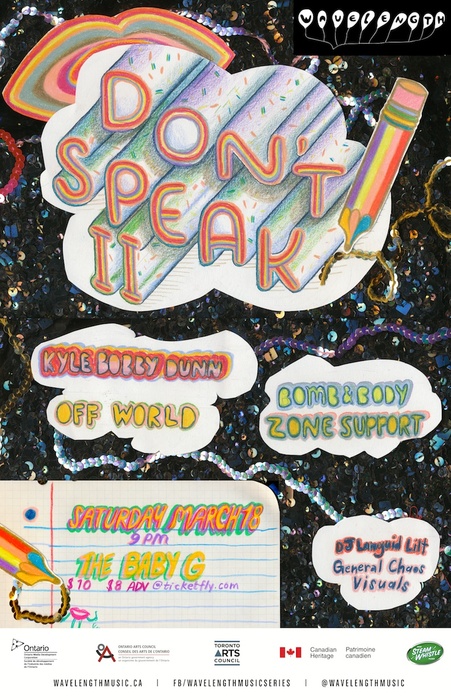 March 18

The Baby G

1608 Dundas St. W.

Doors 9pm

19+

$8 advance | $10 door
"DON'T SPEAK II"
Herein, speaking is outlawed. Upon entering the building, lips must remain sealed. Ambience of sight and sound will provide the viscous background. Writing materials will be given to all attending, for ease of communication. Come, sift silently with us.
KYLE BOBBY DUNN (Montreal)
A stolid legion of hydro towers, stretching to a terminus along corridors of yellow grass. Magic hour saffron igniting sides of houses, an incremental twilight creep draining things to pale. The ache of legs and worn out shoes. The happy and sad silence perforated by electric hum and distant barking dogs.
OFF WORLD (Sandro Perri / Lorenz Peters, Constellation Records)
Charcoal view of a dust-ridden steppe, hunched with lacerated formations. Modular snake hatchlings emerge, synthesizer photosynthesis taking place amongst the arid crusts, mauve curlings and lacy ferns unfurling. Alien granules filter through light beams in a windless panorama, canyons echoing nothing but the purling murmur of tectonic sleep.
BOMB & BODY (Anna Mayberry / Allie Blumas)
Members of Anamai and Doomsquad coalesce to become a singular drone tapestry. Wraiths drifting through a marsh, scintillant mica flashing in a riverbed, the creak and crack of old trees in a burgeoning storm.
ZONE SUPPORT (Randy Gagne / Kevin Hainey)
Deep sea new-age relaxation, swaddled in syrupy gauze and liquid drone salve. Pineal gland exploration, introspective restoration, cucumber mask eternal. Follow the vibrant being into your own psychic undertow.
+ DJ Languid Lilt
++ Environmental projections by Johan Seaton
Saturday, March 18, 2017
@ The Baby G (1608 Dundas St. W)
Doors 9:00PM
OR $10 at the door